National Security, Trade, and China: Risks and Responses in the Internet Age
Federalist Society Review, Volume 20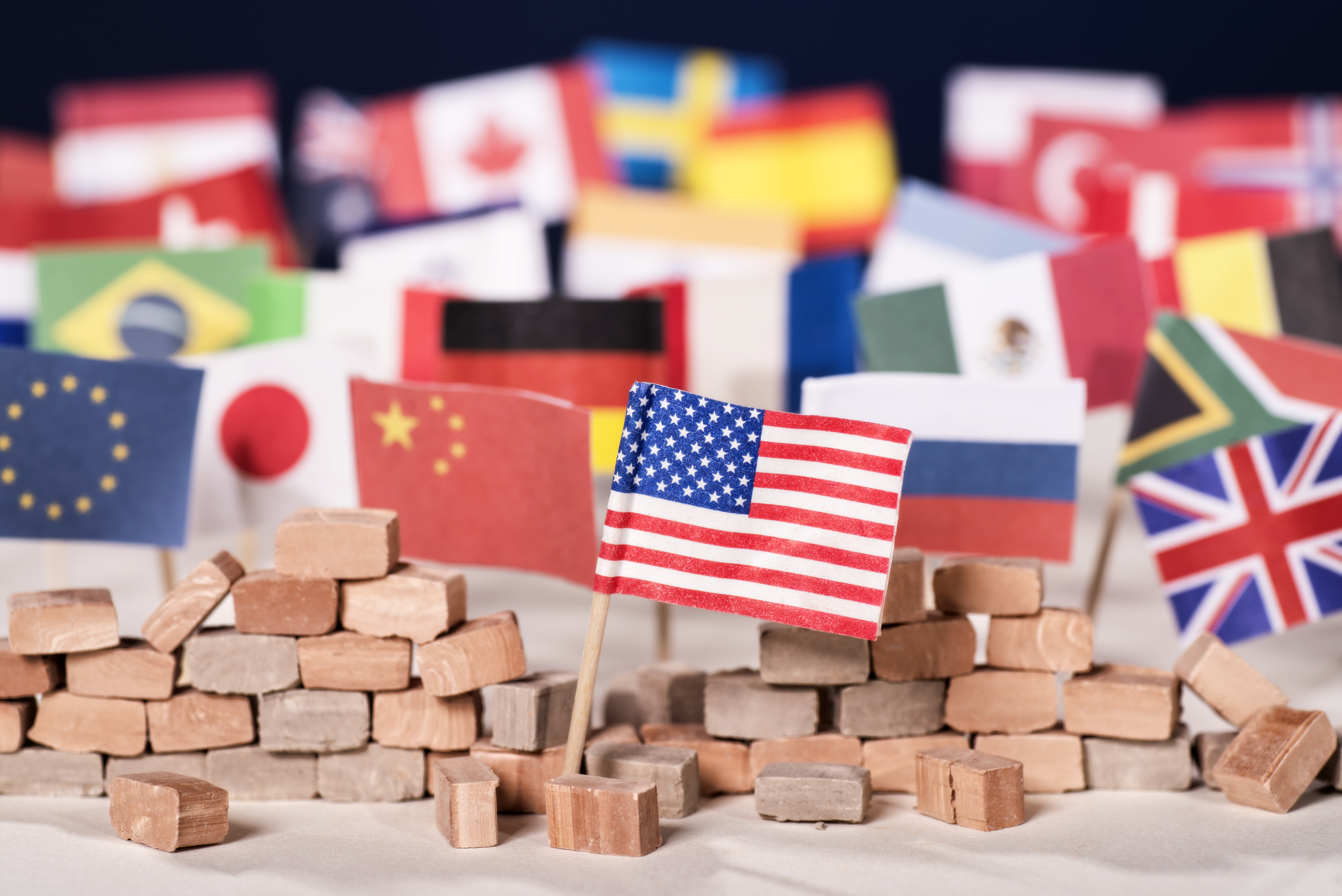 Federalist Society Review
Note from the Editor:
The Federalist Society takes no positions on particular legal and public policy matters. Any expressions of opinion are those of the author. Whenever we publish an article that advocates for a particular position, we offer links to other perspectives on the issue, including ones opposed to the position taken in the article. We also invite responses from our readers. To join the debate, please email us at info@fedsoc.org.
National security concerns cut across typical arguments about trade policy. Typical arguments concentrate on effects on domestic businesses, workers, and consumers from changes in import flows—flows that are determined by differences between national pay scales, regulatory regimes, and saving and consumption priorities. In contrast, national security concerns look to specific effects on national capacity to protect against perils with potential for broad, national impact.
One increasingly discussed security focus today concerns imports from China, notably imports of certain equipment in the information and communication technology (ICT) sector. News commentary has been mostly confined to one or two firms' products. Yet the combination of China's political system, economic structure, and export orientation poses broader threats, which are magnified in a world in which national security is inextricably connected to ICT, both because of its significance to a range of economic, financial, and ordinary daily functions and because of its integration with military hardware and operations. While some aspects of this threat may be controlled through decisions on government procurement and investment, other aspects require constraints on imports of a broader set of products. In addition to products from Huawei and ZTE (the Chinese firms most frequently discussed in connection with security risks), products of other commercially successful firms in the ICT sector—such as China Mobile, Lenovo, and Lexmark—would be on the list.[1]
This paper reviews the risks posed by Chinese imports, the conditions leading to these risks, the firms and products that could pose these risks, and ways in which those risks might best be addressed, particularly through invocation of Section 232 of the Trade Expansion Act of 1962.
I. Trade Basics: Economics and Security
Trade expands choices, enhances competition, raises standards of living, and increases wealth for both trading parties.[2] Anyone who recalls a time when people were limited to fruits and vegetables that were grown nearby appreciates the benefits of access to a worldwide market that can ship products from warmer climates to markets that are experiencing winter, and anyone who grows these products can appreciate having consumers in other markets eager to buy their goods. Having the broadest possible choice set of products that suit each person's tastes, interests, and budget is easy to like. That is why trade's overall effects are strongly positive, even though it undeniably can have negative effects on some businesses, workers, and communities. Over the past seventy-plus years, reductions in global trade barriers, largely associated with the General Agreement on Tariffs and Trade (GATT), have helped expand global trade at roughly half again the pace of global GDP and contributed to major increases in income and declines in poverty.[3]
Most arguments for trade restrictions rooted in concerns about economic dislocation elevate transient, concentrated effects associated with any change in economic factors—primarily changes in costs of production, technology, and consumer tastes—above broader, longer-term gains to society; such arguments have played out in different terms over more than two centuries. But careful scholars, including those known as proponents of managed trade in specific settings, recognize the strong, general case for open trade and reasons for caution in restricting it.[4]
One set of concerns, however, is different and has been recognized as a special ground for setting aside normal trade rules. Article XXI of the GATT (brought forward into the World Trade Organization (WTO) framework) provides:
Nothing in this Agreement shall be construed . . . . (b) to prevent any [member country] from taking any action which it considers necessary for the protection of its essential security interests . . . (iii) taken in time of war or other emergency in international relations . . .[5]
The precise meaning of the GATT language is debated, especially the degree to which the italicized phrase precludes WTO dispute resolution bodies from second-guessing a member state's judgment of its security needs. But the point of the provision is clearly to mark out a special limitation on interference with a nation's protection of its security, including self-protection through otherwise prohibited restrictions on trade.
II. Risks to U.S. National Security
Communications among government personnel engaged with national security issues always have been sensitive, high-priority targets for infiltration by actual and potential opponents. They have also been high-priority for protection through encryption and other steps to reduce opportunity for interception, translation, and defensive or retaliatory maneuvers. For example, breaking the German military's codes used in its Enigma machines often is credited as contributing significantly to Allied forces' success in defeating Nazi Germany in World War II.[6]
In today's world, communications are even more important and far more numerous and constant. Their importance is partly tied to the vast increase in use of electronic transactions—including, but not limited to, in the domain of finance—in place of what formerly required physical operations. Further, much of what still takes place in the physical realm—such as driving a car or a tank, piloting a plane, or sending missiles toward targets—is governed by instructions that are communicated at a distance or by processes taking place within physically separate equipment pursuant to integrated circuits' memory and computing processes.[7]
Any process that incorporates computer chips and any process that occurs at the direction of an electronically transmitted instruction is potentially vulnerable to cyber-espionage and cyber-warfare.[8] In the age of the internet, that covers virtually all of our important, our everyday, and our highly sensitive functions. Diplomatic, strategic, and tactical communications and operations necessary to national security are vulnerable to concentrated hacking efforts, potential sources of leakage of communications, and possible weaknesses in the internal instruction sets that govern computing functions.[9] Every nation's protection depends on the robustness of the insulation around these electronic operations.
All of us are familiar with weaknesses in the way that data are collected, stored, and transmitted. When one of our credit cards is hijacked, it could be because of a major leak of data from a company we've done business with, or a thief could have stolen the information necessary to access our accounts from a single transaction at a terminal in a store. Even though we are notified that our data may have been taken and cancel the card, we are left to wonder when the theft occurred and what damage may have been done that will not surface right away. Our nation's secret communications and the security of critical equipment may be subject to even greater risks, as the resources trained on intercepting or disrupting those functions may be far greater and far more focused than those deployed in the commercial realm.
In addition to the risks to national security from efforts to exploit weaknesses in government equipment, software, and communications, serious security risks attach to equipment, software, and communications of government contractors and others with whom the government does business. The risks include not only those associated with direct efforts to exploit weaknesses in communicating and computing, but also those from latent or even unknown weaknesses in communicating and computing resources that interface with government directly or as links in a larger chain. A "backdoor" may be built into commercially successful software or embedded in equipment that is widely available in ordinary consumer markets, allowing access to highly sensitive information stored on computing or communications equipment directly or remotely, or possibly providing a key to opening other connections leading to such information.[10] Given the number of governments and other entities around the world with interest in discovering information held by the United States or in restricting U.S. military, diplomatic, or other operational options, it is entirely appropriate for the U.S. government to adopt a highly protective stance toward reducing these risks.
III. China Trade's Security Risks
Many nations and many entities pose risks. China and Chinese-origin products, however, pose special risks because a combination of several factors increases the possibility of the products' use for purposes harmful to U.S. security.[11]
The first factor is China's announced goal of dominance in numerous fields, including ICT, that are critical to security, intra-government communications, and military effectiveness.[12] China has made no secret of its intentions in this respect and has made extensive investments in support of these goals.
Second, China has made broad and intense investments in espionage, both in China and abroad, notably including cyber-espionage.[13] It has extensive networks of espionage assets, human and technical, deployed in China and increasingly overseas.[14] This underlies cautions issued by the U.S. government to officials and business executives traveling in China and having on-going communications with Chinese citizens.[15]
Third, China's economy, although still evolving, is not driven by large numbers of small, independent, privately-run firms. Instead, unlike most of the major world economies, it depends to a very large degree on state-owned enterprises (SOEs) and firms that, while not formally state-owned, rely for funding on major (often controlling) investments from the Chinese government. There are estimated to be more than 150,000 SOEs in China, including in some of China's largest enterprises, apart from government investments in many if not most nominally private enterprises that are engaged in substantial economic activity.[16] These enterprises often are led by former government functionaries, including high-ranking members of China's communist party and former military officers.[17] While these officials may no longer have direct roles in government, there is at the least reasonable suspicion of their continuing ties to and responsiveness to the government.[18]
Fourth, also in contrast to most successful and almost all advanced national economies, China's political regime is both openly authoritarian and insulated against formal democratic checks on its exercise of government power.[19] Although for at least a quarter-century China loosened controls over various economic decisions and activities, China's government under President Xi has been reasserting control over many aspects of China's economic activity. As one observer reported, "Since 2012, private, market-driven growth has given way to a resurgence in the role of the state."[20] The reassertion of control over the economic sector has gone hand-in-hand with assertion of greater control over other activity, including renewed restraints on public speech and publicly available information.[21] Recent events in Hong Kong are merely the most widely observed evidence of these changes.[22]
Part of the framework in place in China under the current regime is the legal requirement that private firms cooperate in government security initiatives, including by granting access to private communications and fully cooperating with China's Cyberspace Administration.[23] This creates special risk for anyone using telecommunications, computing, or related equipment from a broad array of well-known Chinese firms including Huawei, ZTE, China Mobile, Lenovo, and Lexmark, among others.[24] All of these firms have considerable investment from or control by China's government, leadership that is intimately connected to China's government or military, and evidence of product or service features that raise specific questions regarding intended or coincidental security risks.[25]
A final factor in the riskiness of Chinese ICT imports is that these firms' products typically are complex, sophisticated, and technologically advanced—characteristics that increase opportunities for inclusion of features that can be exploited with or without the firms' active cooperation.[26] The risks posed by such products are considerably greater, and less easily evaluated, than risks associated with ordinary commercial purchases of less complex products, such as the glass used to make mobile phone screens. Even such highly sophisticated products can pose relatively low security risks, as it is much more difficult to manipulate features to permit state espionage or related intrusions.
It is important to recognize the possibility that any of the above factors could be overstated due to a lack of sufficient credible information. Overstatement also can occur because personal interests may be served by exaggeration of risks or manipulation of factual information.[27] With respect to risks associated with ICT products from China, however, there is at least as great a prospect that the risks are understated rather than overstated. There are obvious interests for the government of China, entities associated with the government, firms that produce and export ICT products from China to the United States, and entities that currently sell or use such products (or wish to) to minimize any estimation of the security risks associated with commercially viable and often low-priced China-sourced products.
Attention to error rates and error costs is essential to critical analysis, and caution before taking a complaint about imports as gospel is sensible. Yet the nature and importance of national security risks, the manifest connection of complex ICT products to such risks, and the complex of factors that make China-sourced ICT products especially likely to pose such risks together provide strong basis for setting aside the usual reservations about pleas for limiting imports or for regulating their use.
IV. Potential Remedies
There are several possible remedies to the risks posed by China-sourced ICT products. While not an exhaustive listing, some of the major candidates are described below.
One obvious remedy is to make changes to U.S. government procurement rules to guard against inclusion of such products in departments and operations of special sensitivity.[28] But such changes are unlikely to be availing. Security lapses often have been traced to government officials' personal equipment—not to their work-purchased equipment and services—or to the equipment and networks of non-government personnel (particularly government contractors). These lapses can be addressed by strengthening enforcement of rules respecting government personnel's use of equipment or services even for strictly personal communications. But highly publicized lapses in security by officials at the highest levels—lapses that occurred despite security personnel's cautions about the activities that led to them—suggest the difficulty of reliance on such rules. Moreover, there simply are too many points of interaction between government and non-government actors in respect of even very sensitive security-related functions to gain much traction through limits on government purchasing and government personnel alone.
Another potential remedy that addresses part of the problem just noted is to amend rules governing government contractors as well as government personnel.[29] Here, too, some gains may be had, but the same enforcement problems that attach to attempts to enforce security regulation through rules addressed to government officials stand in the way of effective control of security risks through regulations aimed at government contractors. Asking a broad swath of entities and individuals who work for private firms that do business with the U.S. government to appreciate the risks from use of widely available commercial ICT products is apt to be insufficient protection of national security. The breaches of security that have been traced back to officials' privately owned products, to equipment and services of government contractors, and to the personnel who work for those contractors are sufficiently numerous to highlight the difficulty of directing others what products to use and how to assure their security.
A different and broader possible remedy would rely on imposing restrictions on importation and sale in the United States of certain China-sourced ICT products that are deemed to pose significant risks to the security of the United States. The most likely vehicle for effecting such restrictions would be Section 232 of the Trade Act of 1962.[30] The provision, as amended, requires the Secretary of Commerce, in consultation with the Secretary of Defense and other appropriate government officials, to conduct an investigation of the possible national security effects of particular imports (when requested by particular parties or on his own initiative). The Secretary evaluates the effects of the imports on national security and recommends to the President whether and what action is appropriate to eliminate or reduce adverse security effects. The President is given broad discretion to determine whether the imports threaten U.S. national security. He also is granted expansive authority to determine the appropriate action if he decides those imports do threaten national security, including negotiating limits on imports but also extending to an unspecified wider range of options.
On its face, Section 232 seems to offer a clear option for the U.S. to investigate Chinese ICT imports and their impact on U.S. security interests and, if necessary, to address the threats through import restraints or other means. While the U.S. law's plain text would cover actions restricting importation and sale of ICT products that could compromise U.S. security by virtue of their potential susceptibility to espionage from China, some arguments about the law reach back to the underlying international trade provision that determines whether Section 232's implementation would be consistent with U.S. obligations under the GATT and WTO.[31] The provision at issue states that the GATT does not prevent any member country "from taking any action which it considers necessary for the protection of its essential security interests."[32] That provision is followed directly by three clauses listing reasons a nation might conclude that its interests are threatened. The third clause covers actions deemed necessary to protect security that are "taken in time of war or other emergency in international relations."[33] The United States takes the position that what a nation "considers necessary for the protection of its essential security interests" is up to each nation, as the phrase's emphasis not on what is necessary but on what a nation considers necessary strongly suggests.[34] A recent decision of a WTO dispute resolution panel rejected that reading, but there is considerable doubt whether that particular ruling will be upheld.[35] Moreover, even if the WTO decides that it is authorized to decide the necessity of actions to respond to an "emergency in international relations," there certainly is a strong argument that national security threats tied to escalating cyber-espionage and prospects for cyber-espionage satisfy Article XXI's conditions.
If the U.S. initiates a proceeding under Section 232, finds a national security threat, and undertakes actions designed to restrict imports of Chinese ICT products that might present security risks, political pushback from China is almost inevitable. Chinese officials have been vocally opposed to restrictions on products from Huawei and ZTE which have been identified by several nations, including the United States, as conducive to Chinese cyber-espionage.[36] If limitations are imposed on a wider array of items from a larger group of firms, the level of complaints from China certainly would rise. In response, China would likely impose sanctions against U.S.-sourced exports to China and increase efforts to persuade U.S. firms dependent on China trade to vocally oppose the government's actions. Given China's recent willingness to wield its economic muscle and its political control of the law and markets within China to secure favorable results, there is substantial reason to expect some U.S. firms to voice support for China's position in any trade conflict.[37] While there are reasons for skepticism about many claimed needs for protection of domestic producers, there also is special reason for wariness about the arguments certain to be made on the other side of this debate.
V. Conclusion
Given the paramount importance of national security, it is critical to examine complaints about the threats posed by China-sourced products in the ICT sector. The combination of factors—political, economic, military, and practical—that make such products especially likely to pose security threats provides strong reasons to consider U.S. actions that could counter such threats before there is significant damage to U.S. national security.
In particular, the Department of Commerce should view an investigation under Section 232 of the Trade Expansion Act as an appropriate vehicle for gathering the necessary information on the scope and shape of security threats posed by particular firms, products, or product classes and for formulating responses to those threats. Although Chinese officials would oppose an investigation and responses that it might generate, that opposition might say more about their interest in continued maintenance of conditions conducive to espionage (or at least to facilitating it when that would most serve China's perceived national interests) than it does about the factual predicates for U.S. action. This paper does not purport to give a final answer to the question whether particular actions ultimately are the right responses, but it does support serious inquiry into threats to U.S. security from a broader set of firms and products than has been the focus of public scrutiny.
---