SCOTUS Orders and Opinions: 12/14/2015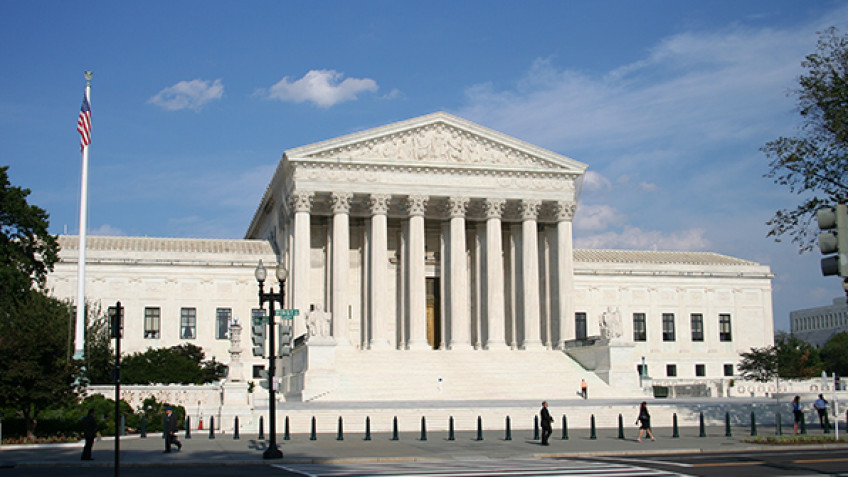 News
(1) Direct TV v. Imburgia: By a vote of 6-3, the judgment of the California Court of Appeal is reversed and the case remanded. Per Justice Breyer's majority opinion: "The Federal Arbitration Act states that a 'written provision' in a contract providing for 'settle[ment] by arbitration' of 'a controversy . . . arising out of' that 'contract . . . shall be valid, irrevocable, and enforceable, save upon such grounds as exist at law or in equity for the revocation of any contract.' 9 U. S. C. §2. We here consider a California court's refusal to enforce an arbitration provision in a contract. In our view, that decision does not rest 'upon such grounds as exist . . . for the revocation of any contract,' and we consequently set that judgment aside."
Justice Breyer's majority opinion was joined by the Chief Justice and Justices Scalia, Kennedy, Alito, and Kagan. Justice Thomas dissented. Justice Ginsburg dissented, joined by Justice Sotomayor.
?
(2) Summary decision in White v. Wheeler, a death penalty habeas case (the opinion is also appended to the Order list): By a vote of 9-0 the judgment of the Sixth Circuit is reversed and the case remanded. Per curiam: "A death sentence imposed by a Kentucky trial court and affirmed by the Kentucky Supreme Court has been overturned, on habeas corpus review, by the Court of Appeals for the Sixth Circuit. During the jury selection process, the state trial court excused a juror after concluding he could not give sufficient assurance of neutrality or impartiality in considering whether the death penalty should be imposed. The Court of Appeals, despite the substantial deference it must accord to state-court rulings in federal habeas proceedings, determined that excusing the juror in the circumstances of this case violated the Sixth and Fourteenth Amendments. That ruling contravenes controlling precedents from this Court, and it is now necessary to reverse the Court of Appeals by this summary disposition."
A new Order List is out:
(1) Cert granted in United States v. Bryant: Whether reliance on valid uncounseled tribal-court misdemeanor convictions, in order to prove 18 U.S.C. § 117(a)'s predicate-offense element, violates the Constitution.
(2) Cert denied in a police shooting case, City of Los Angeles v. Contreras