December 2019 DC Lunch with Deputy Attorney General Jeffrey Rosen
Washington, DC Lawyers Chapter

Tony Cheng's
619 H Street, N.W. (Gallery Place Metro)
Washington, DC 20001
Join us on Friday, December 13 for the Washington, D.C. Lawyers Chapter Luncheon featuring United States Department of Justice Deputy Attorney General Jeffrey A. Rosen.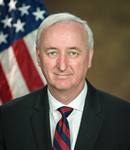 Lunch will be served at 12:00 pm with remarks to follow.
The cost of this lunch is $15.00 for members and $20.00 for non-members. Space is limited, so please register to secure a seat. You can register online and pay at the door.
Online registration for this event has ended. We will be taking walk ins at the door.
Please call 202-822-8138 with any questions.
If interested in purchasing a table, please contact Juli Nix at juli.nix@fedsoc.org or 202-810-8652.