Scott Schneider is partner at Husch Blackwell. He advises companies and educational institutions nationwide on a variety of complex legal issues with a focus on particularly sensitive matters like institutional response to sexual misconduct.
He is a prominent litigator as well as a sought-after advisor on Title IX, labor and employment law issues, and various risk management concerns. He has led numerous investigations of serial sex abuse allegations, allegations of misconduct involving senior leadership and other acts of institutional misconduct. He has also handled various high-profile program reviews of institutional response to sexual misconduct, racial discrimination, handling at-risk employees and students, etc.
Over the last decade, Scott has provided training nationally to thousands of personnel on a variety of issues, including Title IX; labor and employment law; faculty hiring, promotion and tenure processes; and Greek Life risk management. Scott also provides expert witness testimony on matters dealing with institutional response to allegations of sexual misconduct.
Scott regularly presents to national organizations, including the National Association of College and University Attorneys (NACUA), the National Association of Independent Schools (NAIS), the Association for Student Conduct Administration (ASCA) Gehring Academy, the International Association of Campus Law Enforcement Administrators (IACLEA), the Association of College and University Housing Officers-International (ACUHO-I), EDUCAUSE and various associations of independent schools.
Additionally, Scott is an award-winning professor at Tulane University, where he teaches on higher education and labor and employment law and created the Tulane University Law School's Title IX certification program. Scott has been retained by the National Center for Campus Public Safety to serve as a faculty member for its Trauma-Informed Sexual Assault Investigation and Adjudication training program for campus officials. Scott also serves on the faculty for the State University of New York's Student Conduct Institute where he provides training on informal resolution and restorative justice. 
He is nationally recognized for his contributions to news media, including NPR, The Chronicle of Higher Education, Inside Higher Ed, CBS News and The Wall Street Journal.
Scott is rated by Martindale-Hubbell as AV Preeminent and has been selected for Best Lawyers in America© in Education Law and Labor and Employment Law. He has also been recognized by The Legal 500 for his work in education law. 
*****
A person listed as a contributor has spoken or otherwise participated in Federalist Society events, publications, or multimedia presentations. A person's appearance on this list does not imply any other endorsement or relationship between the person and the Federalist Society. In most cases, the biographical information on a person's "contributor" page is provided directly by the person, and the Federalist Society does not edit or otherwise endorse that information. The Federalist Society takes no position on particular legal or public policy issues. All expressions of opinion by a contributor are those of the contributor.
Marriott Marquis
901 Massachusetts Ave NW
Washington, DC 20001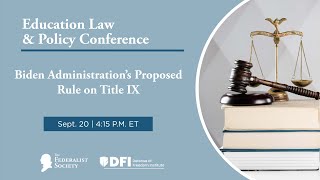 Featuring: Justin Dillon, Partner, KaiserDillon PLLC Roger Severino, Vice President, Heritage Foundation Scott Schneider, Partner,...