Michael T. Hartney is a Fellow at Stanford University's Hoover Institution, an adjunct fellow at 
the Manhattan Institute, and an associate professor of political science at Boston College. 
Hartney's scholarly expertise is in American politics and public policy. His work has been 
published in top academic journals such as the American Political Science Review, the American 
Journal of Political Science and Perspectives on Politics and garnered media coverage from 
the Economist, New York Times, Washington Post, and Wall Street Journal. Hartney also writes 
regularly for popular outlets including City Journal, Education Next, National Review, and the
Washington Post.
Hartney's first book, How Policies Make Interest Groups: Governments, Unions, and American 
Education was published late last year by the University of Chicago Press. The book examines 
the origins, power, and activities of America's teachers' unions and shows how governments 
have long subsidized the unions' political organizing efforts, enabling them to wield outsized 
influence in American education. Before his academic career, he worked as a policy analyst for 
the National Governors Association, where he provided analysis to state policymakers on a wide 
range of school reform issues, from teacher and principal quality to high school redesign. 
Hartney earned his Ph.D. from the University of Notre Dame and his bachelor's degree from 
Vanderbilt University.
*****
A person listed as a contributor has spoken or otherwise participated in Federalist Society events, publications, or multimedia presentations. A person's appearance on this list does not imply any other endorsement or relationship between the person and the Federalist Society. In most cases, the biographical information on a person's "contributor" page is provided directly by the person, and the Federalist Society does not edit or otherwise endorse that information. The Federalist Society takes no position on particular legal or public policy issues. All expressions of opinion by a contributor are those of the contributor.
2023 Education Law & Policy Conference
Washington Hilton
1919 Connecticut Avenue, NW
Washington, DC 20009
In-Person Event

Live Stream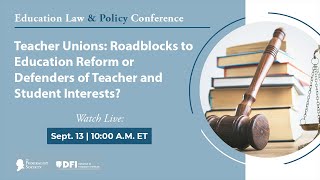 2023 Education Law & Policy Conference
The COVID-19 pandemic demonstrated the powerful influence of teacher unions in public education. As a...