David R. Osborne is President & General Counsel of the Fairness Center. David helped to launch the Fairness Center in 2014 and provides advice and counsel to clients, directs the Fairness Center's legal strategy, and oversees all litigation efforts. Prior to joining the Fairness Center, David practiced law in Florida, where he had previously served as clerk to a Florida Supreme Court justice. 
David received his Juris Doctorate from the Florida State University College of Law, graduating magna cum laude. He enrolled in law school after working as official staff for a Member of Congress from Orlando, Florida.    
David is a member of the Pennsylvania and Florida state bars and has been admitted to the federal District Court for the Middle District of Pennsylvania. He is based in central Pennsylvania, where he is also president of the Harrisburg Chapter of the Federalist Society and a State Advisory Committee Member for the U.S. Commission on Civil Rights. David and his wife have been happily married for 11 years and have four children together.
*****
A person listed as a contributor has spoken or otherwise participated in Federalist Society events, publications, or multimedia presentations. A person's appearance on this list does not imply any other endorsement or relationship between the person and the Federalist Society. In most cases, the biographical information on a person's "contributor" page is provided directly by the person, and the Federalist Society does not edit or otherwise endorse that information. The Federalist Society takes no position on particular legal or public policy issues. All expressions of opinion by a contributor are those of the contributor.
2023 Education Law & Policy Conference
Washington Hilton
1919 Connecticut Avenue, NW
Washington, DC 20009
In-Person Event

Live Stream
2018 Pennsylvania Chapters Conference
Pyramid Club
1735 Market Street
Philadelphia, PA 19103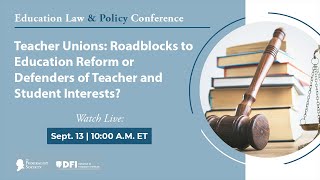 2023 Education Law & Policy Conference
The COVID-19 pandemic demonstrated the powerful influence of teacher unions in public education. As a...