Eric Stahlfeld has been Chief Litigation Counsel and head of the legal team since 2018 for the Freedom Foundation, whose mission is to free public sector employees from union bondage.  Eric graduated in 1992 from the Marshall-Wythe School of Law at the College of William and Mary in Virginia, after which he moved to Washington State to practice law. Prior to law school, Eric worked in the Office of Presidential Personnel under President Ronald Reagan.
Eric and his wife, Susan, live outside Seattle. They have two children, daughter Marta teaches American and world history, and son Karl who is a law student.  Eric's principal hobby involves birds: watching them, taking pictures of them, shooting them, and eating them.
*****
A person listed as a contributor has spoken or otherwise participated in Federalist Society events, publications, or multimedia presentations. A person's appearance on this list does not imply any other endorsement or relationship between the person and the Federalist Society. In most cases, the biographical information on a person's "contributor" page is provided directly by the person, and the Federalist Society does not edit or otherwise endorse that information. The Federalist Society takes no position on particular legal or public policy issues. All expressions of opinion by a contributor are those of the contributor.
2023 Education Law & Policy Conference
Washington Hilton
1919 Connecticut Avenue, NW
Washington, DC 20009
In-Person Event

Live Stream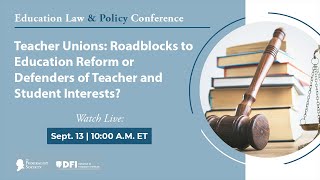 2023 Education Law & Policy Conference
The COVID-19 pandemic demonstrated the powerful influence of teacher unions in public education. As a...