The University of Illinois College of Law community mourns the loss of Professor Larry E. Ribstein, the Mildred Van Voorhis Jones Chair, Associate Dean for Research, and Co-Director of the Illinois Business Law and Policy Program, who passed away on December 24, 2011 in Fairfax, Virginia.
A member of the Illinois law faculty since 2002, Ribstein was a prodigious and pioneering scholar across a vast range of subjects, including partnerships and limited liability companies, corporate and securities law, choice of law, financial regulation, white-collar crime, legal ethics, and the legal profession. Among his over 170 publications, he was the author of The Rise of the Uncorporation (Oxford University Press, 2010),The Law Market (Oxford University Press, 2009) (with Erin A. O'Hara), The Sarbanes-Oxley Debate (American Enterprise Institute Press, 2006) (with Henry N. Butler), The Constitution and the Corporation (American Enterprise Institute Press, 1995) (with Butler), leading treatises (including Ribstein & Keatinge on Limited Liability Corporations and Bromberg & Ribstein on Partnerships), and two casebooks (Business Associations (4th ed. 2003, Lexis/Nexis) (with Peter V. Letsou) andUnincorporated Business Entities (4th ed. 2009, Lexis/Nexis) (with Jeffrey M. Lipshaw)). His latest book, The Rise of the Uncorporation, which examines the emergence and significance of non-corporate forms of business organization, was recently described in the Michigan Law Review as a "fascinating" study that "takes the traditional law and economics story of the corporation and turns it on its head." A prominent commentator on law and business, Ribstein was the founder of Ideoblog (www.ideoblog.org) and the leading contributor to Truth on the Market (www.truthonthemarket.com), which was recently ranked by the ABA Journal as one of the 100 top law blogs.
Professor Ribstein taught a variety of courses at the College of Law, including business organizations, unincorporated business entities, and market regulation. He also taught an innovative colloquium on corporate law that brought together students and leading scholars to discuss current issues in the field.
"Larry was a scholar of incandescent intellect, breathtaking range, and unflagging energy," said Dean Bruce Smith. "He cared passionately about his students and about transforming legal education to meet the challenges of the twenty-first century. He invested selflessly in the professional development of junior faculty members – whether at Illinois or at other institutions. He cared deeply about the College of Law and contributed incalculably to it through his ideas, his engagement, and his counsel. And he cherished his family with a love that was boundless. Larry was a towering figure and an incomparable person, and he will be dearly missed."
After earning his B.A. from The Johns Hopkins University and his J.D. from the University of Chicago Law School, Ribstein practiced for three years as an associate at McDermott, Will & Emery in Chicago. He began his teaching career at Mercer University Law School (1975-87), later serving on the faculty at George Mason University School of Law (1987-2002), including as George Mason University Foundation Professor of Law (1993-2002). He also held visiting professorships at New York University Law School, the University of Texas School of Law, Washington University School of Law, and St. Louis University School of Law. He served the legal-academic community in a variety of capacities, including on the Executive Committee of the American Association of Law Schools (AALS) Section on Securities Regulation, as chair of the AALS Section on Agency, Partnership and LLCs, and as editor and co-editor of The Supreme Court Economic Review.
*****
A person listed as a contributor has spoken or otherwise participated in Federalist Society events, publications, or multimedia presentations. A person's appearance on this list does not imply any other endorsement or relationship between the person and the Federalist Society. In most cases, the biographical information on a person's "contributor" page is provided directly by the person, and the Federalist Society does not edit or otherwise endorse that information. The Federalist Society takes no position on particular legal or public policy issues. All expressions of opinion by a contributor are those of the contributor.
McCormick & Schmick's 4th & Hope (Adjacent to 400 S. Hope St.)
Los Angeles, California
Illinois Student Chapter
University of Illinois College of Law
504 E Pennsylvania Ave
Champaigne, IL 61820
12th Annual Faculty Conference
Wyndham Riverfront New Orleans
701 Convention Center Boulvard
New Orleans, LA 70130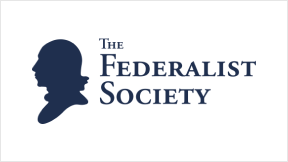 Online Debate
Last updated: Wednesday, March 3, 2010 at 9 AM On January 21, 2010, the Supreme Court announced...