The Federalist Paper, Winter 2019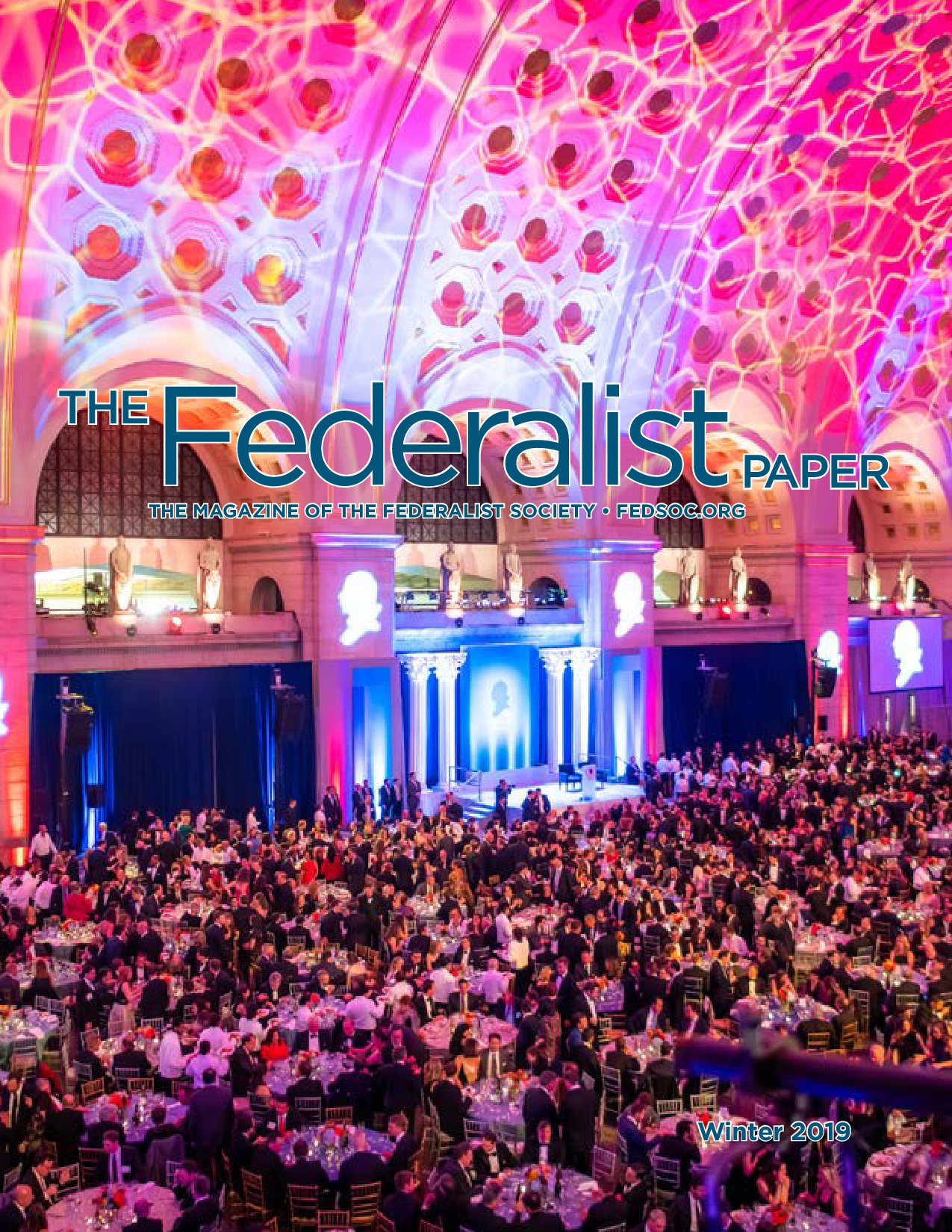 The Federalist Paper
The Federalist Society hosted the annual National Lawyers Convention this past November at the Mayflower Hotel in Washington, DC. The NLC continues to be the highlight of our year, and it has grown every year in both numbers and quality. This year's theme was Good Government through Agency Accountability and Regulatory Transparency, and our four showcase panels covered that topic from several interesting angles. Breakout sessions sponsored by our fifteen practice group touched on that topic and branched out into other areas of law. Thursday night's Antonin Scalia Memorial Dinner featured a keynote conversation between former White House Counsel Don McGahn and Senate Majority Leader Mitch McConnell about judicial selection. See inside for more details and photos of the Convention. Mark your calendar now for November 14-16, and join us for NLC 2019!
Our Student Chapters are doing great work as always. The 2019 National Student Symposium is coming up March 15-16, and it will be held in sunny Phoenix, Arizona. See inside for profiles of an outstanding Student Chapter and a longtime and much-loved speaker. The annual Western Chapters Conference and Florida Chapters Conference were just held back-to-back this winter, and you can see photos from those events inside. The Faculty Division's annual conference took place in New Orleans in early January, and it featured several interesting panels and workshops. Our Practice Groups have not slowed down since planning and sponsoring the breakout sessions at the NLC. They continue to produce excellent commentary on legal and policy issues in their teleforum conference calls, in the Federalist Society Review, and on the Fed Soc Blog.
The Article I Initiative has hosted or co-hosted several events recently, as has the International Affairs Division. Our Digital team has been hard at work producing mini-documentaries and other short videos; see inside for some examples, and watch them at youtube.com/thefederalistsociety. See inside for information about our new and improved State Court Docket Watch, a project of our External Relations team. The Regulatory Transparency Project continues to produce excellent papers, podcasts, and videos, some of which are listed in this issue and all of which you can access at regproject.org.
We hope you enjoy this look at our recent events and commentary. Keep up with us between issues on social media and at fedsoc.org, and please send us any comments at info@fedsoc.org. We look forward to hearing from you!