The Federalist Paper, Summer 2020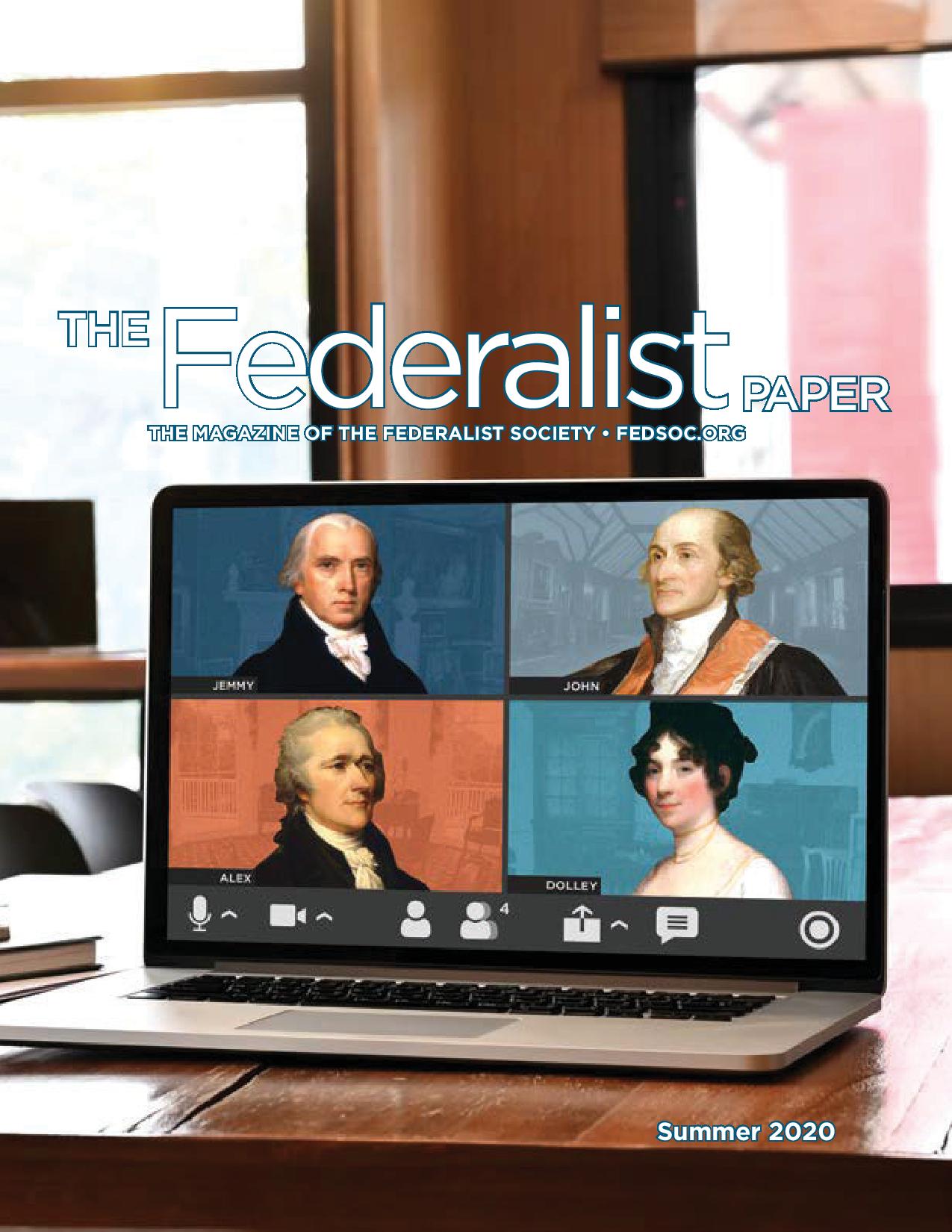 The Federalist Paper
COVID-19 has upended the Federalist Society's activities and plans, just as it has yours. Conferences and other events have been cancelled, and we've moved our content and interactions online to a greater degree than ever. Still, we have been very active with online programming, as this issue shows, and our audiences have been bigger than ever. Additionally, we are conducting a major virtual symposium on COVID and the Law June 11-12. We're grateful for the opportunity to stay in touch with members like you, and to keep you connected with other law students, lawyers, and law professors who are interested in current legal happenings and timeless constitutional principles.
Under normal circumstances, this issue would have featured a photograph of the National Student Symposium on its cover. Unfortunately, despite excellent planning by the leaders of the Michigan Student Chapter, the symposium was cancelled. Our Digital team made it possible to hold several of the planned panels online; find recordings at youtube.com/thefederalistsociety. See the Student Division page for pictures of student chapters that won Feddie Awards and the Faculty Division page for a profile of Prof. Stephen E. Sachs, who won the Joseph Story Award.
The Colorado Lawyers Chapter managed to host an event with Justice Neil Gorsuch before COVID-19 hit, and you can see photos from that event on the Lawyers Chapters page. Our Practice Groups had planned a great Executive Branch Review Conference that turned into Executive Branch Review Week, a series of video panel discussions and teleforum conference calls about important issues involving the executive branch. Watch the videos on our YouTube page, and listen to podcast recordings of the teleforums.
As always, the Article I Initiative and Regulatory Transparency Project have been actively producing videos, podcasts, and papers. Our Digital team is putting out some great videos, and External Relations is rebooting the State Court Docket Watch series. See inside for some of our new online resources, all of which are available at fedsoc.org.
We hope you enjoy this issue of the Federalist Paper. Please send any comments to us at [email protected]. We hope you are staying well, and we look forward to hearing from you!