ABA Executive Director Resigns
News
The American Bar Association's ("ABA") Executive Director, Jack L. Rives, recently announced he will step down as leader of the organization in February 2023. He served in the post for twelve years. In a statement issued by the ABA, Rives stated "I have thoroughly enjoyed my time at the American Bar Association. It's been an incredible honor to work with our dedicated member-leaders and exceptional staff . . . I look forward to continuing to work through the next several months and assure a great transition."
The statement noted that Rives "oversaw an enhancement of the ABA member experience, explosive growth in domestic and global grant awards to conduct a range of rule of law initiatives and implementation of several strategic programs to ensure the ABA's position as the largest voluntary association of lawyers in the world." This includes expanding free continuing legal education programs, a $56 million increase in domestic and international grants for programs that advance the rule of law, and a reduction in operating costs.
Rives was also at the helm during a steady decline in revenue, particularly from membership dues. As shown in Figure 1, between 2016 and 2021, ABA membership dues declined from approximately $71,232,000 to $45,260,000. There was a significant decline during the coronavirus pandemic, with membership dues dropping from $61,822,000 in 2019 to $45,260,000 in 2021. Revenue from ABA meetings was relatively stable until the pandemic, when it declined from $26,224,000 in 2019 to $6,181,000 in 2021. Other forms of revenue like advertising, publications, and accreditation fees were even between 2016 and 2021. The ABA is the only entity recognized by the U.S. Department of Education to accredit law schools. The organization charges fees to law schools seeking accreditation of their legal education programs.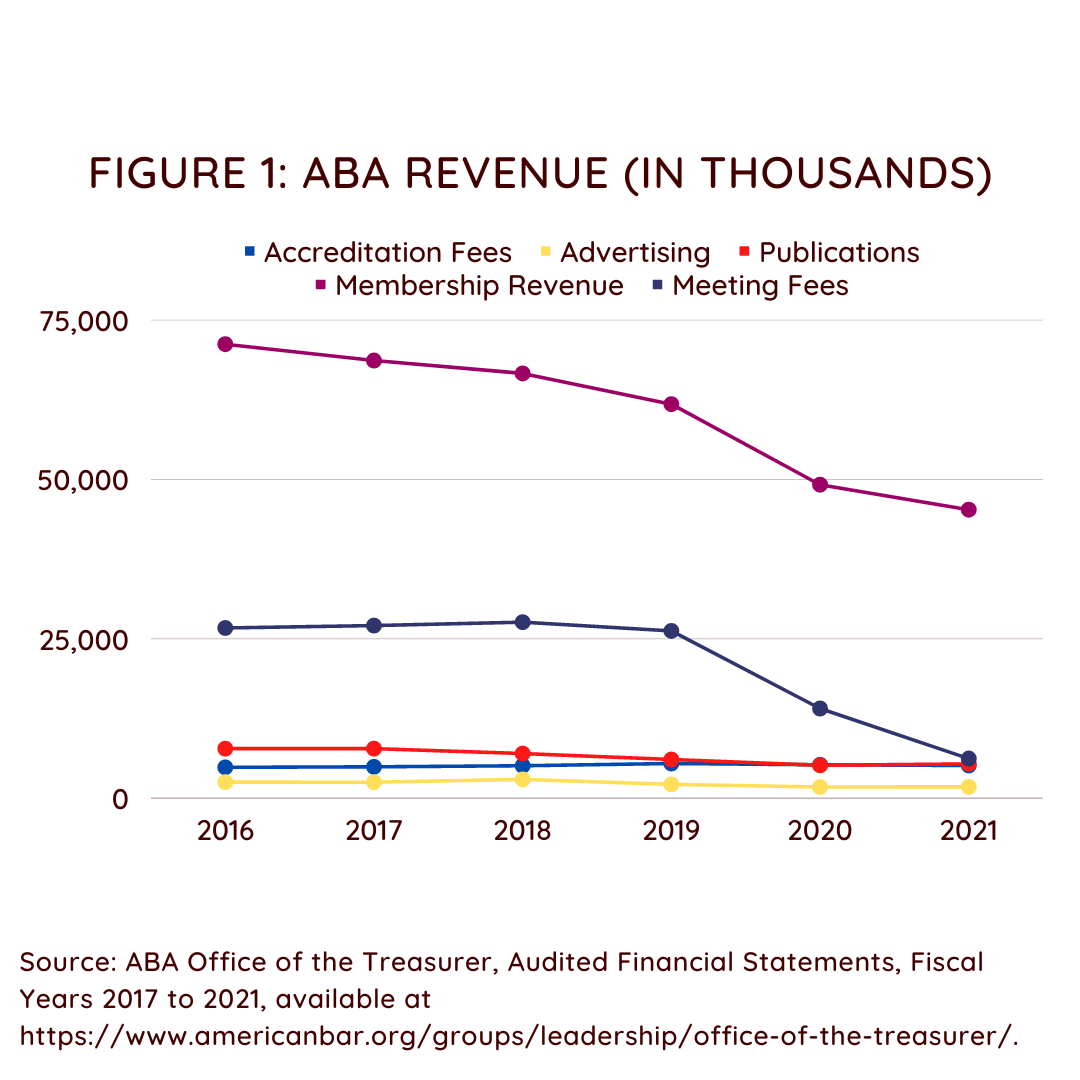 The decline in membership revenue coincides with the ABA's continued emphasis on promoting ideological causes. It has invested heavily in diversity, equity, and inclusion initiatives. At this year's Annual Meeting in Chicago, the ABA House of Delegates took positions on resolutions that "protect those involved in the abortion process or advocates of reproductive rights from civil and criminal penalties" and "[urge] the repeal of the federal law . . . that allows for the sale of a firearm to be finalized after three business days have expired." It has also supported revisions to the ABA Election Administration Guidelines and Commentary that cover areas like voter registration, accessibility, and voting by mail or absentee balloting. Many of these program positions are highly politicized and do not represent the views of a significant portion of the legal profession or America in general.
The ABA will now begin a nationwide search for a new Executive Director. The new Director will likely be charged with reversing the organization's budget woes and broadening its appeal to a larger audience. The full statement on Mr. Rives's departure can be found here.
Note from the Editor: The Federalist Society takes no positions on particular legal and public policy matters. Any expressions of opinion are those of the author. We welcome responses to the views presented here. To join the debate, please email us at info@fedsoc.org.