Federalist Society Presents 2019 Joseph Story Award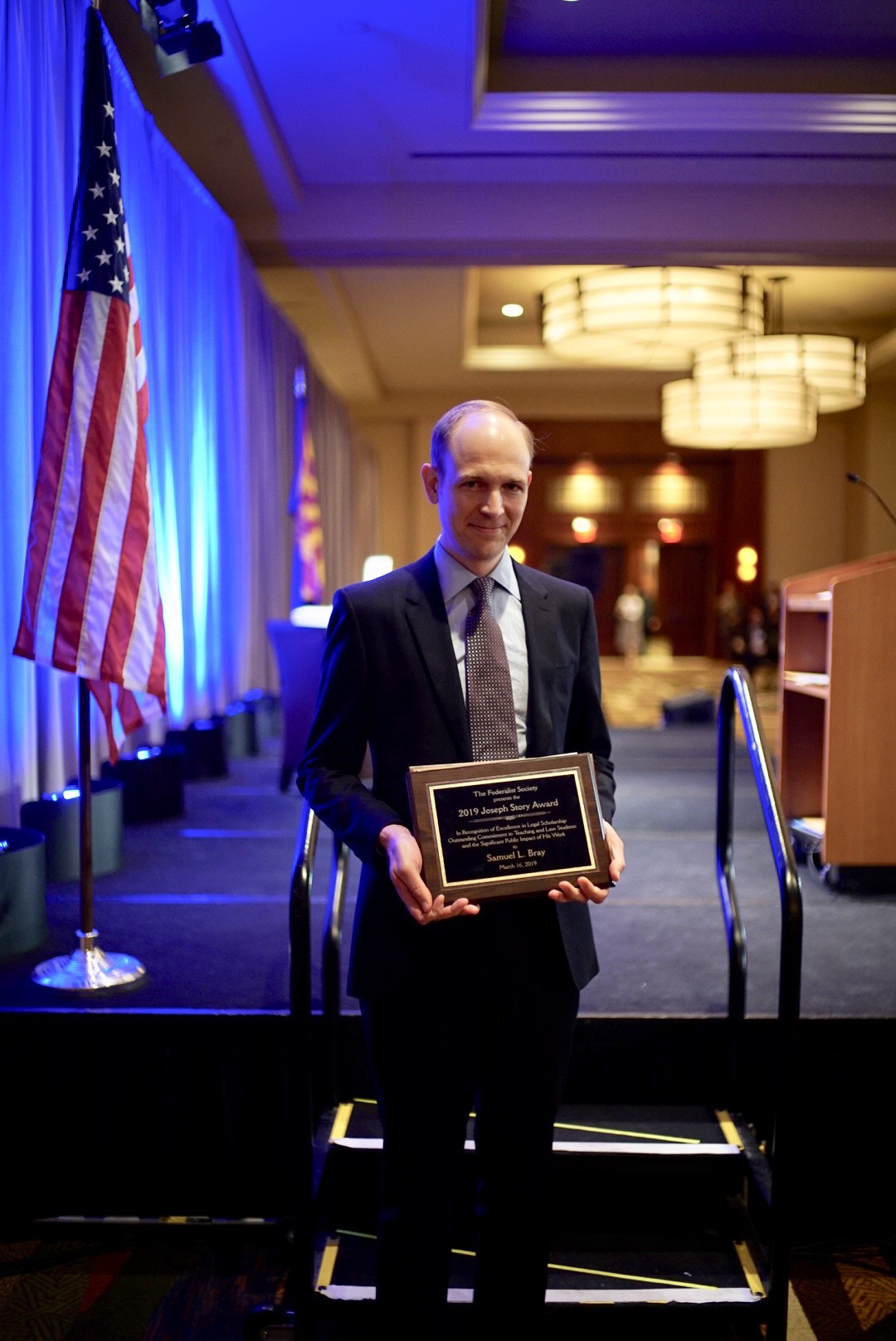 The Federalist Society presented the 2019 Joseph Story Award on Saturday, March 16, to Prof. Samuel Bray of the University of Notre Dame Law School. The award is named for Justice Joseph Story, who was appointed to the Supreme Court at the age of 32, served as the first Dane Professor of Law at Harvard, and wrote the Commentaries on the Constitution of the United States. It is the successor to the Paul M. Bator Award, and is given annually to a young academic (40 and under) who has demonstrated excellence in legal scholarship, a commitment to teaching, a concern for students, and who has made a significant public impact in a manner that advances the rule of law in a free society.
Prof. Bray received the award at the Federalist Society's annual National Student Symposium, held this year at the Arizona State University Sandra Day O'Connor College of Law. Mr. Walter Pelton, a student at the University of Chicago who served on the selection committee, presented the award.
Prof. Bray is both an extraordinarily accomplished and prolific scholar. In the span of three years, he has published 8 articles and essays and 3 coauthored books. These have focused mainly on remedies and the law of equity, but they have also covered constitutional law, jurisprudence, and Biblical translation and hermeneutics. His articles have appeared in leading publications, including the Harvard Law Review, the University of Chicago Law Review, the Columbia Law Review, the Virginia Law Review, and the Oxford Journal of Legal Studies.
Two former recipients of the predecessor Bator award, Will Baude (University of Chicago) and Josh Kleinfeld (Northwestern), praised Professor Bray's work.
"Bray's scholarship in remedies is superlative, and transcends the usual divide between public and private law," said Baude. Referring to one of Bray's articles, Multiple Chancellors: Reforming the National Injunction, Professor Baude added, "This kind of scholarship – intellectually significant, publicly important, and utterly principled – is at the core of what the Story award (and the Bator award before it) are designed to promote."
"Sam is among the leading remedies scholars of his generation," Professor Kleinfeld noted. "His work has played a major role in reviving academic interest in the field, and, relatedly, in the law/equity distinction and in the hotly contested issue of national injunctions. Sam has made contributions in constitutional law and legal theory as well. And he writes like he was born to the pen."
According to Walter Pelton, the student member of the selection committee, "[S]tudents [from Notre Dame] regard [Professor Bray] him as one of the brightest and kindest professors at the law school. One student called Professor Bray's class an 'intellectual Olympics, in which he ties the history and policies of English common law to strategic decisions that we can make as lawyers today.' He is also known for his wit, warmth, and commitment to bringing out the best in his students."
Prof. Bray was honored to receive the award, both on account of the "august company of previous recipients," and because of the award's namesake, Justice Story. Prof. Bray pointed out that Story "wrote the most important treatise of the century in four fields—constitutional law, equity, bailments, and conflicts of law." Prof. Bray noted that he has taught three of these fields and therefore has "felt haunted by the ghost of Joseph Story for some time." Finally, Prof. Bray stated that he was honored to receive the award from the Federalist Society.
"When I was a law student at the University of Chicago," Prof. Bray said, "the Federalist Society was a critical part of the intellectual life of the school and of my legal education. What made the Federalist Society so distinctive was its commitment to debate, to the critical discussion of legal and constitutional ideas that are foundational for our republic." Prof. Bray added: "I wish I could say that this commitment to robust debate, though distinctive when I was a law student, has now been so widely embraced that the Federalist Society is no longer needed. I cannot say that."
Prof. Bray went on to discuss what he described as "two threats" to this commitment. "One is going softly and quietly into the night." Prof. Bray added: "I think you will not do that." "But the other threat," he said, "is that we talk about robust debate and free speech, but we offer speakers who are not worthy of it." Accordingly, Prof. Bray urged "Avoid celebrity. Avoid provocateurs. Avoid law as politics. Go for substance. Invite even those who talk softly, if they carry a big idea." "The members of the Federalist Society," he said, "should be known above all else for this commitment… not only for takedowns of the foes of free speech, but more especially for your sweet reasonableness, for your own commitment to the conversation even when others choose to leave it." "If that is so," he concluded, "the law schools of the United States will be greatly in your debt."
After graduating from the University of Chicago Law School, Mr. Bray clerked for then-Judge Michael W. McConnell on the U.S. Court of Appeals for the Tenth Circuit. He then practiced at Mayer Brown LLP, served as an associate-in-law at Columbia Law School, and was Executive Director of the Constitutional Law Center at Stanford Law School. Before joining Notre Dame's faculty, he was a Professor of Law at UCLA and a Harrington Faculty Fellow at the University of Texas-Austin.
Prof. Bray joins a distinguished group of professors honored with this award and its predecessor.
Notre Dame Law School's press release can be found here.