William Bratton is recognized internationally as a leading writer on business law. He brings an interdisciplinary perspective to a wide range of subject matters that encompass corporate governance, corporate finance, accounting, corporate legal history, and comparative corporate law.
His work has appeared in the California, Cornell, Michigan, Northwestern, Pennsylvania, Stanford, Texas, and Virginia law reviews, and the Duke and Georgetown law journals, along with the American Journal of Comparative Law and the Common Market Law Review. His book, Corporate Finance: Cases and Materials (Foundation Press, 8th ed. 2016), is the leading law school text on the subject.
Bratton is a Research Associate of the European Corporate Governance Institute. In 2009, he was installed as the Anton Philips Professor at the Faculty of Law of Tilburg University in the Netherlands, the fifth American academic to hold the chair. In 2013, he was Simizu Visiting Professor at the Faculty of Law of the London School of Economics.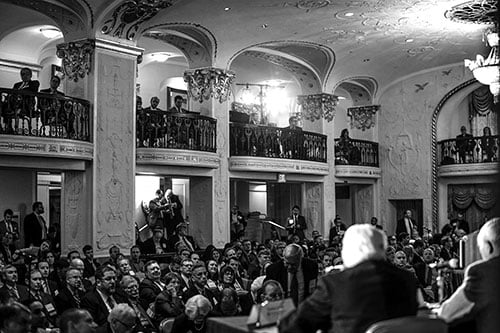 The Shareholder and Stakeholder Symposium
The Mayflower Hotel
1127 Connecticut Ave NW
Washington, DC 20036