Michael Bindas is a senior attorney with the Institute for Justice (IJ) and leads IJ's educational choice team. In this role, he oversees a talented group of IJ attorneys who help policymakers design constitutionally defensible educational choice programs and who defend educational choice programs in courtrooms nationwide. He joined IJ in 2005.
Michael was part of IJ's litigation team in Espinoza v. Montana Department of Revenue, in which the U.S. Supreme Court held the exclusion of religious options from Montana's educational choice program unconstitutional, and he led IJ's defense of the Choice Scholarship Program for elementary and secondary students in Douglas County, Colorado. He also successfully challenged Washington's denial of special education services to children in religious schools, as well as the state's exclusion of sectarian options from its state work study program. Currently, he leads IJ's team in Carson v. Makin, challenging Maine's exclusion of religious options from its educational choice program.
Prior to leading IJ's educational choice team, Michael litigated extensively to secure economic liberty, property rights, and freedom of speech throughout the nation. He was counsel of record at the U.S. Supreme Court for Kimbrough Fine Wine & Spirits in Tennessee Wine and Spirits Retailers Association v. Thomas, a successful challenge to Tennessee's durational residency requirements for retail liquor licenses. He also led successful challenges to the municipal sign codes of St. Louis, Mo. and Norfolk, Va., after those cities attempted to silence protests of their abusive eminent domain practices.
Prior to joining IJ, Michael spent three years as an attorney with Perkins Coie LLP. He is a former law clerk to Judge Rhesa Hawkins Barksdale of the U.S. Court of Appeals for the Fifth Circuit and served as an engineer officer in the United States Army and Pennsylvania Army National Guard before beginning his legal career.
Michael received his law degree cum laude from the University of Pennsylvania Law School in 2001, where he served as Articles Editor for the Journal of Constitutional Law and was elected to the Order of the Coif. He received his undergraduate degree from the United States Military Academy at West Point in 1995.
*****
A person listed as a contributor has spoken or otherwise participated in Federalist Society events, publications, or multimedia presentations. A person's appearance on this list does not imply any other endorsement or relationship between the person and the Federalist Society. In most cases, the biographical information on a person's "contributor" page is provided directly by the person, and the Federalist Society does not edit or otherwise endorse that information. The Federalist Society takes no position on particular legal or public policy issues. All expressions of opinion by a contributor are those of the contributor.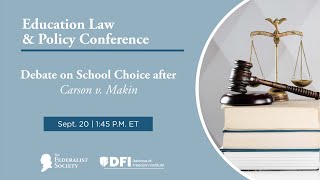 Featuring: Michael Bindas, Senior Attorney, Institute for Justice Richard Katskee, Vice President and Legal Director,...