Jim is a co-founder of DFI. Before his Senate confirmation as the Assistant Secretary for Planning, Evaluation and Policy Development at the U.S. Department of Education under Secretary Betsy DeVos, he worked in education reform at the state level for more than 20 years. Among other leadership roles, he was the national president of StudentsFirst and the national director of the Alliance for School Choice. He also helped guide the education reform investments of the Walton Family Foundation for nearly a decade until 2014. Before committing himself full-time to education reform, Jim worked at political and communications firms in New York and California. He holds a bachelor's degree from Occidental College and a master's in business administration from the Yale School of Management.
*****
A person listed as a contributor has spoken or otherwise participated in Federalist Society events, publications, or multimedia presentations. A person's appearance on this list does not imply any other endorsement or relationship between the person and the Federalist Society. In most cases, the biographical information on a person's "contributor" page is provided directly by the person, and the Federalist Society does not edit or otherwise endorse that information. The Federalist Society takes no position on particular legal or public policy issues. All expressions of opinion by a contributor are those of the contributor.
Marriott Marquis
901 Massachusetts Ave NW
Washington, DC 20001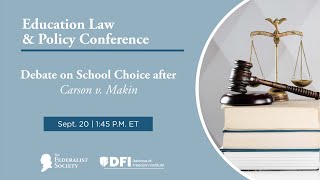 Featuring: Michael Bindas, Senior Attorney, Institute for Justice Richard Katskee, Vice President and Legal Director,...