Matt Sharp serves as senior counsel and state government relations national director with Alliance Defending Freedom, where he focuses on state and local legislative matters.
Since joining ADF in 2010, Sharp has authored federal and state legislation, regularly provides testimony and legal analysis on how proposed legislation will impact constitutional freedoms, and advises governors, legislators, and state and national policy organizations on the importance of laws and policies that protect First Amendment rights. He has testified before the United States Congress on the importance of the Religious Freedom Restoration Act.
Sharp has also worked on important cases advancing religious freedom and free speech. He has won cases upholding the rights of students to form religious clubs, invite classmates to church, and even perform a religious song at a school talent show. He authored an amicus brief to the U.S. Supreme Court on behalf of nearly 9,000 students, parents, and community members asking the Court to uphold students' right to privacy against government intrusion.
Sharp earned his J.D. in 2006 from the Vanderbilt University School of Law. A member of the bar in Georgia and Tennessee, he is also admitted to practice in several federal courts.
*****
A person listed as a contributor has spoken or otherwise participated in Federalist Society events, publications, or multimedia presentations. A person's appearance on this list does not imply any other endorsement or relationship between the person and the Federalist Society. In most cases, the biographical information on a person's "contributor" page is provided directly by the person, and the Federalist Society does not edit or otherwise endorse that information. The Federalist Society takes no position on particular legal or public policy issues. All expressions of opinion by a contributor are those of the contributor.
Second Annual Florida Young Lawyers Summit
University Club of Tampa
201 N Franklin St #3800
Tampa, FL 33602
Capital City Club 201 Monroe St #2100
Montgomery, Alabama 36104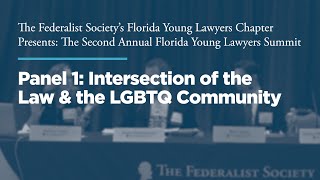 Second Annual Florida Young Lawyers Summit
Featuring: Nancy Hogshead-Makar, Founder, Champion Women Matt Sharp, Senior Counsel and State Government Relations National...