U.S. Senator John McCain has a long career of public service.
After graduating from the Naval Academy in 1958, John McCain began his career as a Naval aviator. In 1982, he was elected to Congress representing what was then the first congressional district of Arizona. In 1986, he was elected to the United States Senate to take the place of Arizona's great Senator Barry Goldwater. Senator McCain is currently the senior senator from Arizona.
In 2000, Senator McCain ran unsuccessfully for the Republican nomination for President of the United States. He is currently the Ranking Member of the Senate Committee on Armed Services. He also serves on the Senate Committee on Commerce, Science and Transportation, and the Senate Committee on Indian Affairs.
Senator McCain has seven children and four grandchildren. He and his wife, Cindy, reside in Phoenix.
*****
A person listed as a contributor has spoken or otherwise participated in Federalist Society events, publications, or multimedia presentations. A person's appearance on this list does not imply any other endorsement or relationship between the person and the Federalist Society. In most cases, the biographical information on a person's "contributor" page is provided directly by the person, and the Federalist Society does not edit or otherwise endorse that information. The Federalist Society takes no position on particular legal or public policy issues. All expressions of opinion by a contributor are those of the contributor.
2006 National Lawyers Convention
The Mayflower Hotel - Grand Ballroom
1127 Connecticut Avenue NW
Washington, DC 20036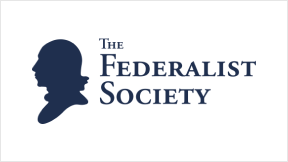 Online Debate
On November 4, 2008 American voters will elect the forty-fourth President of the United States....