Former Arkansas governor Mike Huckabee recently formed HuckPac to assist Republicans running for office nationwide. Mike Huckabee believes conservative leadership is best suited to lead America forward in the 21st Century.

In the past year, Huckabee campaigned for the Republican nomination for President — and to share his message of vertical politics that he says reflects American values and priorities.

From 1996-2007, Huckabee served as the 44th Governor of Arkansas. When he left office on January 9, 2007, he set out on a nationwide tour to promote his fifth book, "From Hope to Higher Ground: 12 STOPS to Restoring America's Greatness." The book reveals his optimistic vision for what America can become with the right kind of leadership and a clear direction.
Huckabee is recognized as a national leader, having been honored by several renowned publications and organizations for his numerous accomplishments. Governing Magazine named him as one of its 'Public Officials of the Year' for 2005, Time Magazine honored him as one of the five best governors in America, and later in the same year, Huckabee received the American Association of Retired Person's Impact Award. In 2007, he was presented with the Music for Life Award by the National Association of Music Merchants (NAMM) for his commitment to music education.
Huckabee became governor in July 1996 when his predecessor resigned. He was one of the youngest governors in the country at the time. Huckabee was elected to a full four-year term as governor in 1998, attracting the largest percentage of the vote ever received by a Republican gubernatorial nominee in Arkansas, and was re-elected to another four-year term in November 2002.

Huckabee first was elected lieutenant governor in a 1993 special election and was elected to a full four-year term in 1994. He was only the fourth Republican to be elected to statewide office since Reconstruction.
A significant part of his adult life was spent as a pastor and denominational leader. He became the youngest president ever of the Arkansas Baptist State Convention, the largest denomination in Arkansas. Huckabee led rapidly growing congregations in Pine Bluff and Texarkana. He said those experiences gave him a deep sense of the problems faced by individuals and families.

Huckabee's efforts to improve his own health have received national attention. Diagnosed with Type II diabetes in 2003, he lost 110 pounds. Barely two years later, he has completed four marathons: The 2005 and 2006 Little Rock Marathons, the Marine Corps Marathon and the ING New York City Marathon. As a result of his accomplishments, The Road Runners Club of America named him its 'Southern Region Runner of the Year' and USA Track & Field has named him their 'Athlete of the Week' for the country.

Continuing to call for a national emphasis on living a healthy lifestyle, Huckabee completed his fourth book, "Quit Digging Your Grave With A Knife and Fork." This 12-stop program is a no-nonsense approach to managing one's health through lifestyle change rather than a simple diet and exercise plan.
Huckabee, 52, enjoys playing bass guitar in his rock-n-roll band, Capitol Offense, which has opened for artists such as Willie Nelson and the Charlie Daniels Band, and has played the House of Blues in New Orleans, the Red Rocks Amphitheater in Denver, CO and for two presidential inauguration balls.
The former governor and his wife, Janet, live in North Little Rock. They have three grown children: John Mark, David and Sarah.
*****
A person listed as a contributor has spoken or otherwise participated in Federalist Society events, publications, or multimedia presentations. A person's appearance on this list does not imply any other endorsement or relationship between the person and the Federalist Society. In most cases, the biographical information on a person's "contributor" page is provided directly by the person, and the Federalist Society does not edit or otherwise endorse that information. The Federalist Society takes no position on particular legal or public policy issues. All expressions of opinion by a contributor are those of the contributor.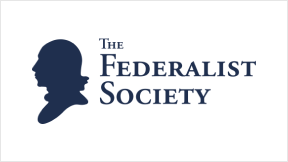 Online Debate
On November 4, 2008 American voters will elect the forty-fourth President of the United States....