Eugene Scalia is a partner in the Washington, D.C. office of Gibson, Dunn & Crutcher, co-chair of the firm's Administrative Law and Regulatory Practice Group, and a senior member of the firm's Labor and Employment Practice Group and Financial Institutions Practice Group.  He returned to the firm after serving as U.S. Secretary of Labor from September 2019 to January 2021.
Mr. Scalia has a nationally-prominent practice in two areas:  Labor and employment law, and advice and litigation regarding the regulatory obligations of federal administrative agencies.  He also has extensive appellate experience.  Federal regulatory actions he has challenged include the SEC's "proxy access" rule; the CFTC's "position limits'" rule; MetLife's designation as "too big to fail" by the Financial Services Oversight Council; the Labor Department's "fiduciary" rule; and OSHA's "cooperative compliance program."
As Labor Secretary, Mr. Scalia engaged at the highest level with national employment policy and matters affecting the financial services industry and international trade, overseeing the enforcement and administration of more than 180 federal employment laws covering more than 150 million workers and 10 million workplaces.  He also served as Chair of the Board of Directors of the Pension Benefit Guaranty Corporation and as a member of the White House Coronavirus Task Force.  He was closely involved in the drafting and implementation of the CARES Act and other coronavirus-related legislation.  Laws administered by the Labor Department also include the workplace safety requirements of OSHA and the Mine Safety and Health Administration, federal minimum wage and overtime protections, the anti-discrimination requirements applicable to federal contractors, and ERISA's protection of the more than $11 trillion held in employee retirement plans and health plans.
Mr. Scalia served from 2002 to 2003 as Solicitor of the U.S. Department of Labor, with responsibility for all Labor Department litigation and legal advice on rulemakings and administrative law.  He is the only person to have served as both Solicitor and Secretary of Labor.
He also served at the U.S. Department of Justice as a Special Assistant to the Attorney General, receiving the Department's Edmund J. Randolph Award in 1993.
In private practice, Mr. Scalia has represented employers in high-profile matters under the National Labor Relations Act and in class actions and collective actions under Title VII, the Americans with Disabilities Act, the Age Discrimination in Employment Act, ERISA, and federal and state wage hour laws.  He has extensive experience in federal district court, the courts of appeals, and in the arbitration of employment disputes.  He has been a leading authority on "whistleblower" investigations and litigation since the 2002 enactment of the Sarbanes-Oxley Act.  Mr. Scalia also counsels employers on reductions-in-force and the proper conduct of harassment and discrimination investigations.  He has provided pro bono representation to workers in discrimination matters, wrongful separation disputes, and other matters.
Mr. Scalia is a Senior Fellow of the Administrative Conference of the United States, a federal agency that makes recommendations to Congress and the Executive Branch on ways to improve the administrative process.  He is the author of more than 30 articles and papers on labor and employment law, administrative law, and other subjects.  Among other accolades, he has been named an "Employment MVP," a "Securities MVP," and an "Appellate MVP" by Law360. The National Law Journal recognized Mr. Scalia as a "Visionary" for his litigation against financial regulatory agencies, and the Nation magazine has called him a "fearsome litigator."  He has been a Lecturer in labor and employment law at the University of Chicago Law School.
Mr. Scalia graduated cum laude from the University of Chicago Law School, where he was editor-in-chief of the Law Review.  He graduated With Distinction from the University of Virginia in 1985 and was a speechwriter for Education Secretary William J. Bennett before attending law school.  Mr. Scalia and his wife Trish have seven children.
*****
A person listed as a contributor has spoken or otherwise participated in Federalist Society events, publications, or multimedia presentations. A person's appearance on this list does not imply any other endorsement or relationship between the person and the Federalist Society. In most cases, the biographical information on a person's "contributor" page is provided directly by the person, and the Federalist Society does not edit or otherwise endorse that information. The Federalist Society takes no position on particular legal or public policy issues. All expressions of opinion by a contributor are those of the contributor.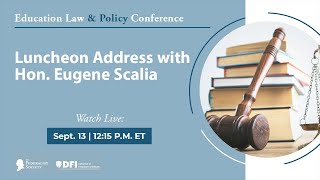 2023 Education Law & Policy Conference
Event Video: Lunch and Luncheon Address