The Federalist Paper, Winter 2020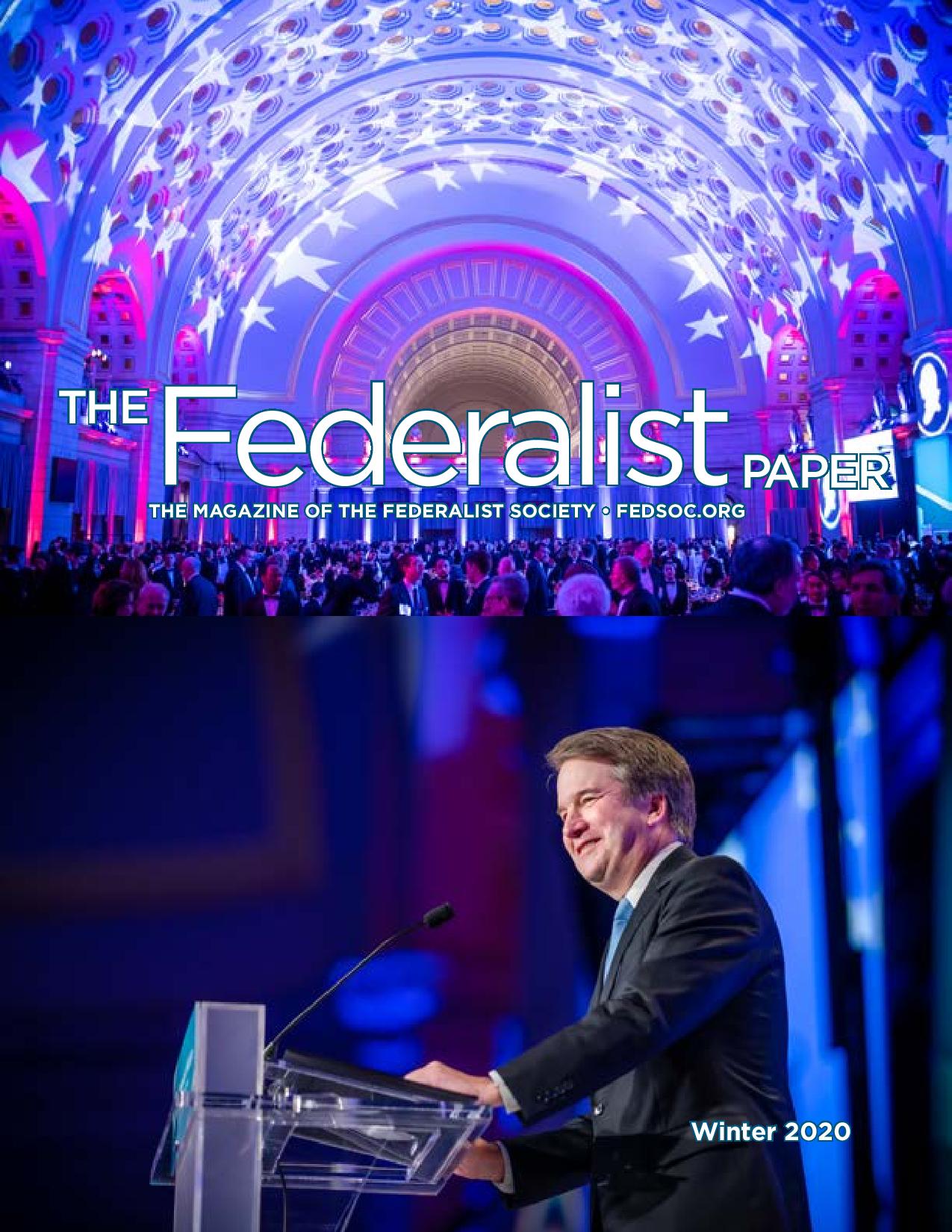 The Federalist Paper
The Federalist Society's National Lawyers Convention was held in November and, as always, it was a great event. The theme of the convention was Originalism, a subject both timeless and timely. Four Showcase panels sought to define originalism, present reasons for and against adopting it as an interpretive theory, and wrestle with its implications for rights and precedent. The 12th Annual Rosenkranz Debate pitted against each other Professors Philip Hamburger and Michael McConnell on the question of whether the Free Exercise Clause guarantees a constitutional right of religious exemption from general laws when such an exemption would not endanger public peace and good order. Our Practice Groups each planned and hosted a breakout panel.
Several distinguished speakers addressed the convention. Florida Governor Ron DeSantis gave the opening address on Thursday morning, and Secretary of Labor Eugene Scalia gave an address on Friday. Attorney General William Barr delivered the 19th Annual Barbara K. Olson Memorial Lecture, in which he discussed and critiqued the evolving role of the exectuive in the federal government. Justice Neil Gorsuch was joined by his former clerks and co-authors David Feder and Jane Nitze for the Hon. Robert H. Bork Memorial Lecture, a discussion moderated by Leonard Leo. Finally, the newest Associate Justice of the United States Supreme Court, Hon. Brett Kavanaugh, addressed the Antonin Scalia Memorial Dinner at Union Station. Visit fedsoc.org to watch videos, listen to audio recordings, and read transcripts of panels and speakers you missed, and join us for the 2020 National Lawyers Convention this fall!
The NLC isn't the only thing Fed Soc has done over the past few months. Inside this issue, you'll see that our Student Division is gearing up for the National Student Symposium, our Lawyers Chapters have hosted several regional conferences and an event with Hon. Nikki Haley, and our Faculty Division held its annual conference. The Article I Initiative and the Regulatory Transparency Project have been active, as has our Digital team. See inside for some of our online resources, all of which are available at fedsoc.org.
We hope you enjoy this issue of the Federalist Paper. Please send any comments to us at info@fedsoc.org. We look forward to hearing from you!