The Federalist Paper, Summer 2018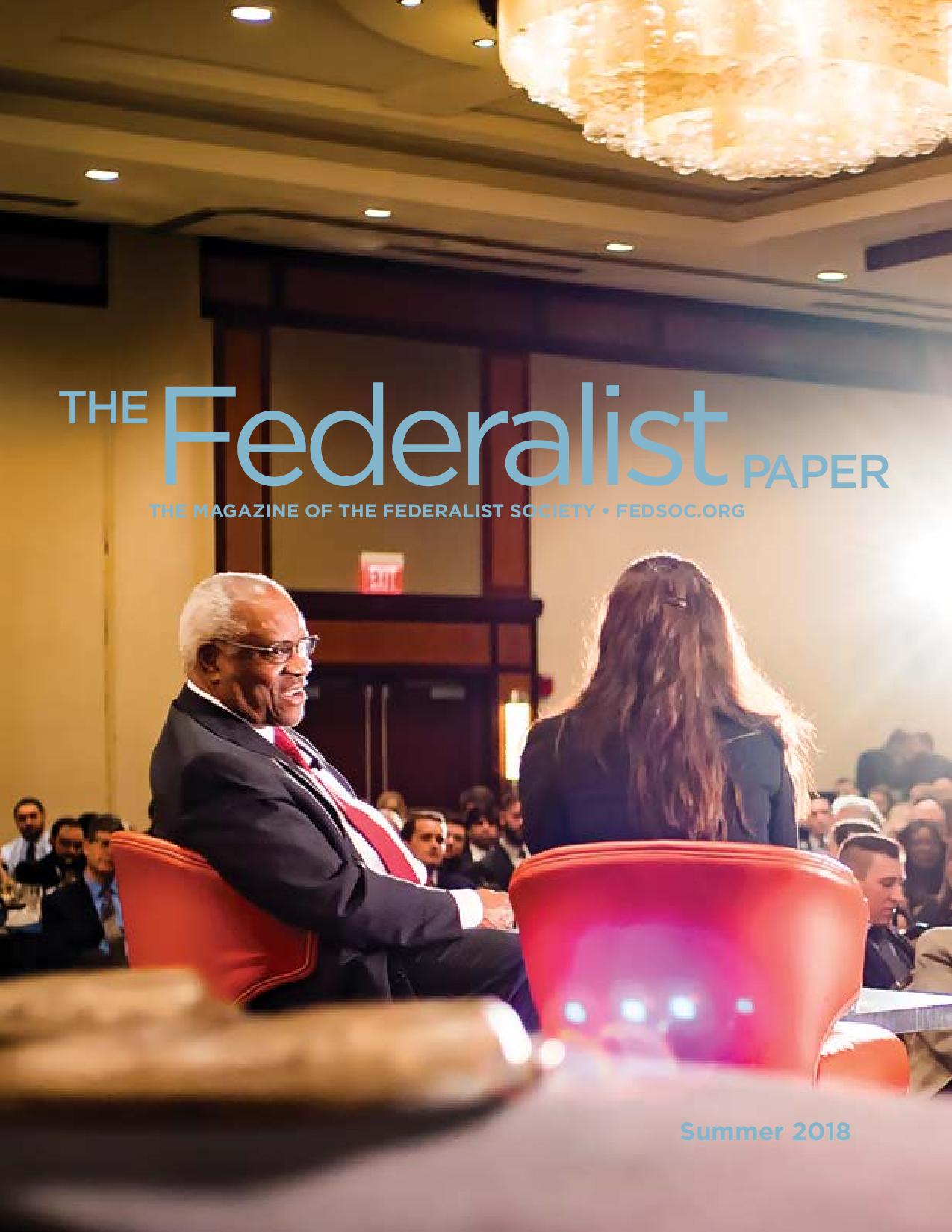 The Federalist Paper
One of our marquee annual events, the National Student Symposium, was held in March at Georgetown University Law Center. The theme was First Principles of the Constitution, and several excellent panels addressed that important topic from various angles. For the banquet keynote, Justice Clarence Thomas was interviewed by Prof. Jennifer Mascott. See inside for photos of the Symposium, and visit fedsoc.org or youtube.com/thefederalistsociety to watch videos of the panels. Also inside, on the Student Division pages, you'll see which Student Chapters received Feddie Awards at the Symposium, honoring them for the great work they're doing on their campuses.
Lawyers Chapters in Ohio and Wisconsin recently hosted statewide conferences, and you can see photos of those events inside this issue and watch panels online. The Faculty Division bestowed the inaugural Joseph Story Award on Prof. Josh Blackman at the Student Symposium; find more information and read a brief interview with Prof. Blackman on page 10. The Sixth Annual Executive Branch Review Conference was put on by our Practice Groups this spring, and it covered issues related to deregulation in a number of excellent panels. The Practice Groups also continue to produce timely commentary in their teleforum conference calls, in the Federalist Society Review, and on the Fed Soc Blog.
The Article I Initiative hosted a conference on Restoring Article I, featuring several lawmakers and commentators discussing ideas about Congress and its proper constitutional role. The State Courts Project has been hosting candidate forums in states where judicial and AG elections are underway, and the Regulatory Transparency Project continues to be active. Our Digital team is busy producing mini-documentaries and other short videos, which you can view at youtube.com/thefederalistsociety.
We hope you enjoy this look at just a few of our activities. Keep up with us between issues on social media and at fedsoc.org. Please send comments to info@fedsoc.org. We look forward to hearing from you!