The Federalist Paper, Summer 2017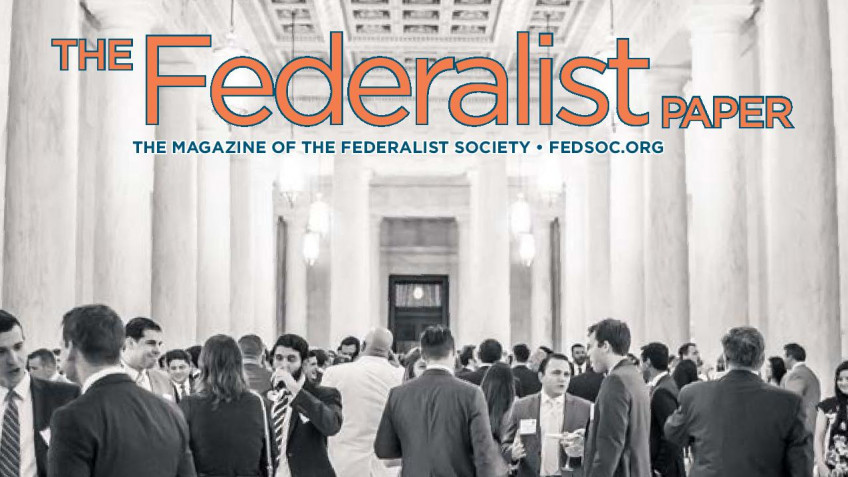 The Federalist Paper
The Federalist Society has been bringing you expert commentary on and analysis of the just-concluded Supreme Court term all year. See inside for a small sampling of the resources we have provided, and go to fedsoc.org to read articles and blog posts, listen to podcasts, and watch videos about the term's most important cases from top legal experts.
Besides keeping up with the exciting things happening at the Supreme Court—including the nomination and confirmation of Justice Neil Gorsuch to the seat formerly held by Justice Antonin Scalia—the Federalist Society has been busy hosting events around the country. One of the most exciting was the Fifth Annual Executive Branch Review Conference (EBR5), which was held at DC's Mayflower Hotel in May. In conjunction with the Federalist Society's multi-year exploration of the role of Congress in our system of government (see the Article I Initiative for more detail on that), EBR5 featured keynotes and panels that explored the theme of The Relationship between Congress and the Executive Branch.
Lawyers Chapters in Ohio held their first statewide conference this past spring, having seen the success of other statewide and regional conferences (keep an eye out for registration for the upcoming Kentucky and Texas Chapters Conferences). Bestselling author J.D. Vance gave the keynote address at the conference. Lawyers Chapters around the country have been hosting Supreme Court round-ups and summer receptions—be sure to get connected with your local chapter.
Student Chapters wrapped up a great school year filled with excellent events, but next year's student leaders have not taken the summer off. Student Chapter presidents for the 2017-18 school year came together for the annual Student Leadership Conference in DC, and we eagerly anticipate another fantastic year on campuses across the country. Our excellent faculty will continue to contribute to campus intellectual life as well; see inside for updates on the work they are doing.
Please send any comments to katie.mcclendon@fedsoc.org. I look forward to hearing from you!