The Federalist Paper, Spring 2017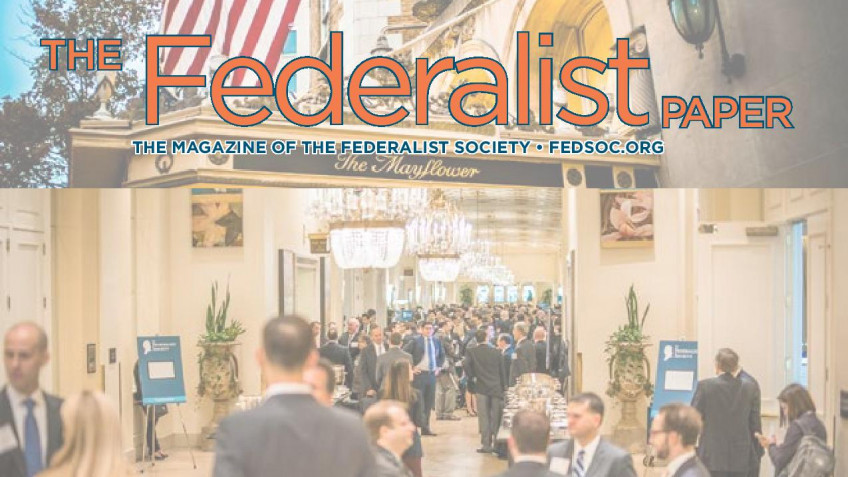 The Federalist Paper
The past couple of months have been a busy time in American politics and law. President Obama's term came to an end, President Trump was inaugurated, and, perhaps of special interest to Federalist Society members, Judge Neil Gorsuch was nominated to fill the Supreme Court seat left open when Justice Antonin Scalia passed away last year. The Federalist Society has been correspondingly busy putting on events, publishing articles, and recording podcasts and videos featuring top legal experts discussing key issues in law and policy.
Our signature yearly event—the National Lawyers Convention—took place in Washington, DC in November, and it featured a roster of top-notch speakers honoring and discussing Justice Scalia's jurisprudence and legacy. In the early months of 2017, our Western Lawyers Chapters and Florida Lawyers Chapters held their annual regional conferences focused on state law issues. The Ohio Lawyers Chapters will hold their inaugural conference in late March.
Our Annual Faculty Conference was held alongside the AALS conference in San Francisco in early January, and featured stimulating panel discussions as well as commentary on works-in-progress by faculty members. Practice Groups held conferences on matters including international law in the Trump era and federal criminal prosecution, while also putting on a steady stream of teleforum conference calls to keep members informed on a wide range of important issues. At a special event in February, Vice President Mike Pence discussed the nomination of Judge Gorsuch at Philadelphia's Independence Hall.
Members of our Student Chapters came together in early March for the annual National Student Symposium, which was hosted by our Columbia Student Chapter. The theme of the conference was The First Amendment in Contemporary Society—undoubtedly a timely topic in our era of political polarization.
Remember to check out fedsoc.org to find all of the resources the Federalist Society makes available to you, including scholarly articles, quick blog posts, short videos, and in-depth podcasts. Please send any comments or suggestions to katie.mcclendon@fedsoc.org. I look forward to hearing from you!