The Federalist Paper, Fall 2017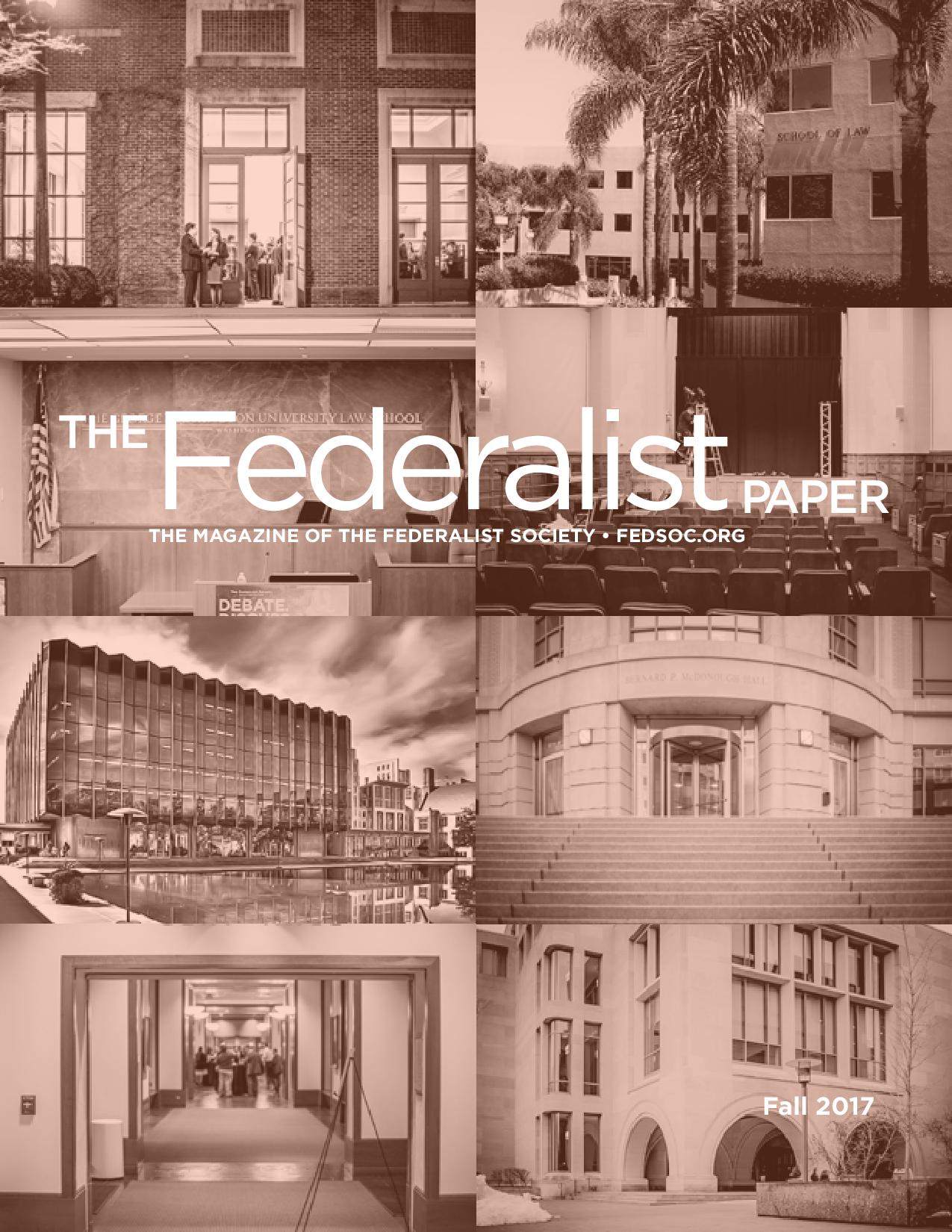 The Federalist Paper
A new school year is underway, and the Federalist Society is as committed as ever to bringing underrepresented perspectives to law school campuses around the country. Student Chapters have already hosted some great debates on campus, and they have been busy recruiting new Fed Soc members. See inside for more about why legal education is important to us, and visit fedsoc.org to find resources for law students, lawyers, and others.
Besides maintaining a full roster of regular campus events, our Student Chapters have hosted a few special events this fall, including an address by Sen. Rand Paul at George Washington University Law School, and participated in statewide Lawyers Chapter conferences. The Texas Lawyers Chapters held a successful conference in Houston, and the Kentucky Lawyers Chapters held their inaugural statewide conference this fall.
The Faculty Division brought together law students and law faculty for the annual James Kent Academy at the tail end of the summer. Keep an eye out for the Faculty Division's new books podcast, which will debut soon. The Practice Groups continue to produce excellent commentary in their Teleforum conference calls; if you miss a call, you can listen to it as a podcast later. And don't miss the excellent videos that our Digital team has been releasing, which you can find at youtube.com/thefederalistsociety.
See inside for photos of the many recent events put on by the Regulatory Transparency Project, the Article I Initiative, and External Relations. The Federalist Society is more active than ever, and we hope you enjoy this look at just a few of our activities. Keep up with us between issues by liking us on Facebook, following us on Twitter, and checking in at the recently revamped fedsoc.org.
Please send any comments to info@fedsoc.org. We look forward to hearing from you!