The Free State Foundation's Fourteenth Annual Policy Conference on May 6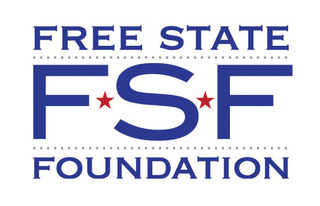 News
The Free State Foundation's Fourteenth Annual Policy Conference will be held on May 6 at the National Press Club. Happily, we'll be back together again in person!
Each year our annual conference has gotten bigger, better, and more impactful. I'm confident that this one will be as interesting, informative, and stimulating as the previous conferences. How could it be otherwise with such an outstanding group of speakers and sessions!
FCC Commissioners Brendan Carr and Nathan Simington, and former Acting FCC Chairwoman Mignon Clyburn will kick-off the conference with a "View from the FCC" session moderated by my colleague Seth Cooper. Then, I will moderate a "Hottest Topics in Communications and Internet Policy" session featuring Meredith Baker, President and CEO of CTIA – The Wireless Association; Chris Lewis, President and CEO of Public Knowledge; Michael Powell, President and CEO of NCTA – The Internet and Television Association; and Jonathan Spalter, President and CEO of USTelecom – The Broadband Association.
Next, Russell Hanser, Director of Communications Policy Initiatives at the National Telecommunications and Information Administration, will deliver a Keynote Address, with brief reactions to follow by Robert Branson, President and CEO of Multicultural Media, Telcom & Internet Council TC, and FSF Senior Fellow Andrew Long. After our usual buffet lunch, FTC Commissioners Christine Wilson and Noah Phillips will provide a "View from the FTC," in a session moderated by former Acting FTC Chairman and Commissioner Maureen Ohlhausen.
Throughout the conference there will be plenty of discussion regarding broadband deployment and adoption; universal service reform; spectrum policy and wireless regulation; the changing video services landscape and proper regulatory responses; privacy and data security regulation; and protecting competition and consumers in the Digital Age.
At the Free State Foundation, we unabashedly proclaim our commitment to free market-oriented principles along with respect for property rights and the rule of law. But from our founding in 2006, we have always valued and respected the opinions of others with different philosophical and policy perspectives. Today, respectful discourse among those with differing views is more important than ever. So, our goal at the conference is to stimulate discussion, and, through civil discourse, perhaps even move a few steps closer to reaching consensus on important public issues.
The conference agenda with all the details is here. There is no charge, but if you would like to attend, you absolutely must register on this form in advance!
As always, I am grateful for your interest and participation in the Free State Foundation's programs and activities.
Note from the Editor: The Federalist Society takes no positions on particular legal and public policy matters. Any expressions of opinion are those of the author. To join the debate, please email us at [email protected].