Russell practices in the areas of government and internal investigations, white-collar criminal defense, and government relations, having worked extensively at the Department of Justice, FBI, and on Capitol Hill. Most recently, Russell served as the United States Attorney for the Western District of Kentucky.
During his tenure as the chief federal law enforcement officer for the 53 counties of his district, Russell prioritized efforts to more equitably reduce violent crime — particularly in Louisville, given its historic levels of homicide and non-fatal shootings. He also led efforts to combat increasingly sophisticated drug trafficking organizations' distribution of dangerous narcotics and to respond to the exploding volume of fraud related to the COVID-19 pandemic. Toward those ends, Russell prioritized relationship building and collaboration with state prosecutorial partners and between federal, state, and local law enforcement agencies.
Prior to his nomination as U.S. Attorney, Russell was in private practice at Frost Brown Todd in Louisville. As part of his practice, he actively assisted clients with common sense reform of the criminal justice system, to include a first-time path to expungement of non-violent offenses in Kentucky as well as a package of re-entry reforms via Senate Bill 120. During this time, he also served as a volunteer Assistant Commonwealth's Attorney in Oldham County, Kentucky.
Russell previously served as Senior Advisor and Legal Counsel to U.S. Senator Mitch McConnell over a five-year period, providing counsel to Senator McConnell and his staff on a broad range of ethics and compliance matters. Russell also served as a policy advisor, conducted vetting of successful candidates for federal judicial vacancies, and helped to achieve High Intensity Drug Trafficking Area (HIDTA) designation for multiple counties in the Commonwealth.
While an FBI Special Agent, Russell investigated a diverse portfolio of national security, white collar, and violent crime matters, and was certified as an FBI Crisis (Hostage) Negotiator. He volunteered for a 2007 temporary duty assignment in support of Operation Iraqi Freedom in Anbar Province, Iraq.
From 1999 to 2001, Russell served as Briefing Coordinator to two Attorneys General at the U.S. Department of Justice.
He currently serves on the Boards of Directors for the Kentucky State Police Foundation and the Christopher 2X Game Changers organization.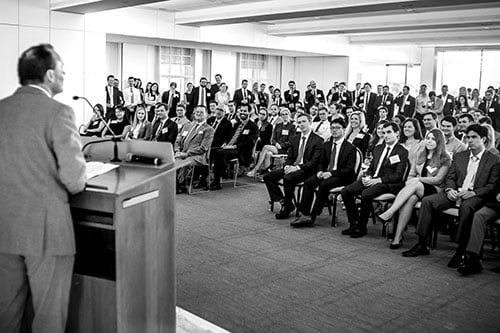 Fifth Annual Kentucky Chapters Conference
Kentucky State Capitol House Chambers
700 Capital Ave
Frankfort, KY 40601