Renita Thukral is the Senior National Advisor for Legal Affairs for the National Alliance for Public Charter Schools, where she leads and grows the Alliance of Public Charter School Attorneys; addresses civil rights, fiscal equity, and labor/employment issues confronting charter schools; assists with federal legal questions challenging the charter school community; provides legal technical assistance to state partners considering litigation; and offers support to state partners seeking to improve their regulatory and authorizing environments. Prior to her work with the National Alliance, she was the policy director at the Louisiana Association of Public Charter Schools and, prior to that, the director of policy and advocacy at New Schools for New Orleans. Renita was an adjunct professor at Loyola University New Orleans College of Law and has been invited to speak at Harvard Law School, Columbia University Teachers College, and Johns Hopkins School of Education. In 2010, she published a law review article in the Loyola Journal of Public Interest Law titled "The Unique System of Charter Schools in New Orleans after Hurricane Katrina: Distinctive Structure, Familiar Challenges," which examined the New Orleans charter school community. In 2013, she published a law review article in the ABA Journal of Labor and Employment Law titled "Federal Regulations of State Pension Plans: The Governmental Plan Revisited," which explored the impact of federal rulemaking on the eligibility of quasi-public entities to offer state pension benefits to their employees. Before entering the charter school world, Renita was a public defender in New York City, practicing at the trial and appellate levels in state and federal courts. She clerked for the Honorable Robert W. Sweet in federal district court in the Southern District of New York. She earned her juris doctorate from Yale Law School and her Bachelor of Arts from Stanford University, where she was inducted into Phi Beta Kappa during her junior year. She taught junior high school math in Los Altos, California, before attending law school. Renita proudly serves on three nonprofit boards. She is a founding board member of Harmony School of Excellence-DC, a charter school based in Washington, D.C.  She serves on the board of Charter Board Partners, a national nonprofit that designs and drives high-quality governance for charter school operators around the country. And she is the vice president of the board of Global Charity Foundation, a United States-based nonprofit that provides health care and education services to women and children in India.
*****
A person listed as a contributor has spoken or otherwise participated in Federalist Society events, publications, or multimedia presentations. A person's appearance on this list does not imply any other endorsement or relationship between the person and the Federalist Society. In most cases, the biographical information on a person's "contributor" page is provided directly by the person, and the Federalist Society does not edit or otherwise endorse that information. The Federalist Society takes no position on particular legal or public policy issues. All expressions of opinion by a contributor are those of the contributor.
2023 Education Law & Policy Conference
Washington Hilton
1919 Connecticut Avenue, NW
Washington, DC 20009
In-Person Event

Live Stream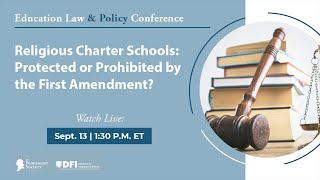 2023 Education Law & Policy Conference
Supporters of charter schools argue that their popularity and proven effectiveness in improving learning outcomes...