Mr. Jay Lefkowitz is a leading partner in Kirkland's litigation practice and a member of the Firm's Global Executive Management Committee. He is also an adjunct professor at Columbia Law School, where he teaches a seminar on Supreme Court advocacy. Mr. Lefkowitz has served as lead trial and appellate counsel in a wide variety of substantive areas, including shareholder disputes, antitrust, product liability, litigation against the FDA and False Claims Act matters. He has also conducted numerous internal investigations for public companies and audit committees.
In its 2013 release of "The 100 Most Influential Lawyers in America," The National Law Journal describes Mr. Lefkowitz as "a leading voice on school choice issues" and "a no-nonsense appellate and antitrust lawyer for an array of blue-chip clients." The Legal 500 U.S. noted that Mr. Lefkowitz "provides a depth of understanding and influence in some of the highest courts of our country," and in Chambers USA, America's Leading Lawyers for Business, clients say, "'Jay is brilliant; there is no other way to put it.'" Mr. Lefkowitzwas also named a Law360 "MVP of the Year" in 2011 for his Appellate practice, and in 2012, 2013, 2014 and 2015 for his Life Sciences work. Mr. Lefkowitz is one of only three of the 189 MVPs named to the list five years in a row. The American Lawyer named him its "Lawyer of the Week" in December 2012 for his role in winning an antitrust lawsuit in the pharmaceutical industry.
Mr. Lefkowitz takes on groundbreaking work for high-profile clients, representing more than a dozen major pharmaceutical, medical device and health care companies in important and frequently precedent-setting matters. Mr. Lefkowitz has won two landmark 5-4 decisions at the U.S. Supreme Court in favor of the pharmaceutical industry overturning the decision of three Circuit Courts of Appeal. In Pliva v. Mensing in 2011, on behalf of Teva and Actavis, Mr. Lefkowitz convinced the Court to reject the views of the FDA and the Solicitor General and establish that generic drug companies may no longer be sued for "failure to warn claims," finding that federal law preempts state law under the Constitution's supremacy clause. His victory in Mutual v. Bartlett in 2013, overturned a $21 million verdict on behalf of Sun Pharmaceuticals, and extended the Mensing ruling to cover design defect claims.
*****
A person listed as a contributor has spoken or otherwise participated in Federalist Society events, publications, or multimedia presentations. A person's appearance on this list does not imply any other endorsement or relationship between the person and the Federalist Society. In most cases, the biographical information on a person's "contributor" page is provided directly by the person, and the Federalist Society does not edit or otherwise endorse that information. The Federalist Society takes no position on particular legal or public policy issues. All expressions of opinion by a contributor are those of the contributor.
2001 National Lawyers Convention
The Mayflower Hotel
1127 Connecticut Avenue NW
Washington, DC 20036
Litigation Practice Group Podcast
In a recent decision, the Third Circuit held that hundreds of state-law claims alleging that...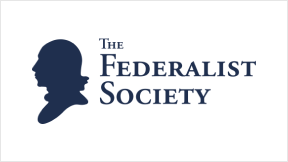 The Administrative Law & Regulation Practice Group sponsored this panel during the 2001 National Lawyers...