Conor was appointed Lecturer in Law at the School of Law and Social Justice in August 2021. From 2020-2021 he was a Max Weber Postdoctoral Fellow at the European University Institute, Florence.
Prior to this, he completed an LLB at Trinity College, Dublin in 2015, an LLM from Yale Law School in 2017, and a Ph.D. from Trinity College, Dublin in 2020. Conor is a non-practising barrister, having been called to the Irish Bar in 2020.
Conor's research specialises in administrative law, constitutional law, and legal theory.
Conor has had work featured in leading journals like the Edinburgh Law Review, European Constitutional Law Review, International Journal of Constitutional Law, Harvard Journal of Law & Public Policy, Maryland Law Review, Modern Law Review, Law & Literature and Public Law.
Conor's work has been cited by the Irish Supreme Court, Court of Appeal, and High Court. His work has also been cited by the Irish Human Rights and Equality Commission and Oireachtas Library & Research Service. In April 2022 Conor was invited to provide expert evidence on constitutional issues to the Irish Government's Housing Commission. In the United Kingdom, Conor has given expert evidence to the House of Lords Constitution Committee on the work of the Law Officers. His work has been cited before the House of Commons Justice Committee and by the Constitutional and Legal Affairs Committee of the Tynwald.
In April 2021 Conor was a co-author of an Irish Human Rights & Equality Commission-funded report analysing the Irish State's response to the crisis from a human rights and rule of law perspective. In January 2022 Conor was co-author of a report on the Attorney General of England & Wales commissioned by the think-tank Policy Exchange.
Conor is a regular commentator on legal matters in leading national newspapers and radio stations. He has written for the Irish Times, Journal.ie, and Washington Post.
*****
A person listed as a contributor has spoken or otherwise participated in Federalist Society events, publications, or multimedia presentations. A person's appearance on this list does not imply any other endorsement or relationship between the person and the Federalist Society. In most cases, the biographical information on a person's "contributor" page is provided directly by the person, and the Federalist Society does not edit or otherwise endorse that information. The Federalist Society takes no position on particular legal or public policy issues. All expressions of opinion by a contributor are those of the contributor.
Second Annual Florida Young Lawyers Summit
University Club of Tampa
201 N Franklin St #3800
Tampa, FL 33602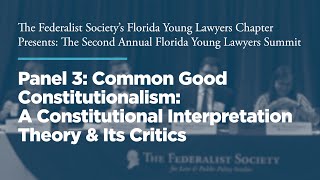 Second Annual Florida Young Lawyers Summit
Featuring: Prof. Conor Casey, Lecturer in Law and Assistant Professor, University of Liverpool School of...