The Federalist Paper, Fall 2014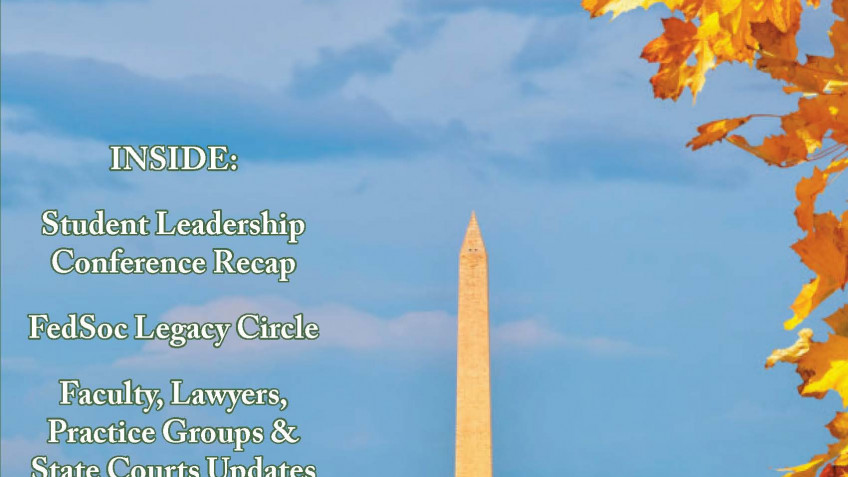 The Federalist Paper
We are pleased to bring you the fall issue of The Federalist Paper. Inside, as always, we review the many programs and publications the Federalist Society has sponsored through its various divisions and special projects over the past months.
The Student Division began another stellar year of events at nearly every law school across the country. Over the summer, our staff held the annual Student Leadership Conference in Washington, DC to prepare incoming chapter presidents for the duties of running a successful chapter.
The Practice Groups and Faculty Division teamed up once again to offer their Annual Supreme Court Round-Up to review the Court's 2013 Term and their Annual Supreme Court Preview to discuss the Court's upcoming 2014 Term.
Also included in this issue are full updates from the many activities of our Lawyers Chapters, State Courts Project, International Law & Sovereignty Project.
We are looking forward to our 2014 National Lawyers Convention in Washington, DC on November 13-15.
Stay tuned on fed-soc.org and FedSocBlog.com to stay updated on our Teleforum Conference Calls, SCOTUScasts, Practice Group Podcasts, newest Engage articles, and white papers.
As always, we invite and encourage friends and members to send in comments and suggestions to Christian.Corrigan@fed-soc.org—and we look forward to hearing from you!