Bill Hughes is senior counsel and director of global regulatory matters for ConsenSys Software, the leading Ethereum blockchain software company. Bill focuses on the diverse and ever evolving crypto global regulatory landscape, and the legal and public policy issues with which ConsenSys and the broader crypto ecosystem is grappling.
Bill joined ConsenSys after serving as an Associate Deputy Attorney General at the Department of Justice, where he managed, among other things, the Department's work on prospective regulations, legislative proposals, and policies across a broad spectrum of legal and operational issues. He worked closely with the White House and other federal agencies on regulatory and policy initiatives and coordinated DOJ's law enforcement response to COVID-19-related consumer fraud and money laundering. Bill also has served at the White House, where he oversaw various operational components. Bill began his career by clerking for a federal judge in New York and litigating with the firm of Sullivan & Cromwell LLP. Bill received his JD from the University of Virginia School of Law and his BA from Vanderbilt University.
*****
A person listed as a contributor has spoken or otherwise participated in Federalist Society events, publications, or multimedia presentations. A person's appearance on this list does not imply any other endorsement or relationship between the person and the Federalist Society. In most cases, the biographical information on a person's "contributor" page is provided directly by the person, and the Federalist Society does not edit or otherwise endorse that information. The Federalist Society takes no position on particular legal or public policy issues. All expressions of opinion by a contributor are those of the contributor.
America's Square
300 New Jersey Ave NW
Washington, DC 20001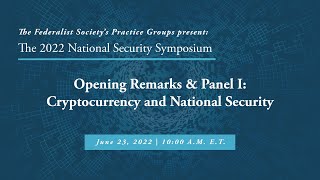 Cryptocurrencies have in many ways seized the public imagination. And there are many potential benefits to...