Sujit Raman joined Sidley Austin after nearly a dozen years as a federal prosecutor, culminating in his service as Associate Deputy Attorney General at the U.S. Department of Justice (DOJ). In that role, he personally advised the Attorney General and Deputy Attorney General in their oversight of the nation's cyber-related criminal and national security investigations and prosecutions. Sujit also led DOJ's policy formulation in a number of critical areas, including cybersecurity, cross-border data transfers and protection, 5G/supply chain security, and emerging technologies such as facial recognition, cryptocurrency, and encryption. He brings clients a deep understanding of substantive and procedural issues involved in white collar defense, corporate internal investigations, cyber/data protection, and national security matters.
Sujit was a lead U.S. representative in high-profile international data-sharing negotiations with the United Kingdom, Australia, and the European Union. He also coordinated DOJ's response to the Schrems II decision of the EU Court of Justice and, from 2018–2020, chaired the Attorney General's Cyber-Digital Task Force, leading formulation of DOJ's policy and operational response to transnational cybercrime, nation-state-sponsored malign cyber activity, and online foreign influence operations. Sujit was instrumental in drafting the legislation for the Clarifying Lawful Overseas Use of Data (CLOUD) Act and led the team that worked with industry and Capitol Hill to secure the legislation's bipartisan passage.
In addition to his extensive experience in cybersecurity, data protection, and national security issues, Sujit served for over eight years as an Assistant United States Attorney in Maryland where he led numerous complex white collar fraud and public corruption investigations, and tried six cases to jury verdict. He also served as the office's chief of appeals, supervising the appellate work of over 80 federal prosecutors across the spectrum of federal criminal law, arguing 20 cases in the federal court of appeals, and personally litigating matters of first impression in areas as diverse as export control and economic sanctions compliance; the RICO statute; the border search doctrine and the third-party doctrine as they apply to electronic evidence; and other leading issues at the intersection of law, technology, and privacy.
Sujit is a sought-after speaker and thinker on international regulatory and geopolitical issues and has appeared in national media and testified before the U.S. Senate on these topics. His professional achievements and service to the legal community have earned him public recognition, including the "Attorney General's Award for Distinguished Service" (2018), the National Asian Pacific American Bar Association "Best Lawyers Under 40" Award (2015), the National South Asian Bar Association "Cornerstone Award" (2015), and the U.S. Secret Service "Director's Award" (2013).
A term member of the Council on Foreign Relations, Sujit is a graduate of Harvard College, Harvard Law School, and the University of Bristol (UK), where he studied as a Marshall Scholar and served as head coach of the women's varsity rowing program.
*****
A person listed as a contributor has spoken or otherwise participated in Federalist Society events, publications, or multimedia presentations. A person's appearance on this list does not imply any other endorsement or relationship between the person and the Federalist Society. In most cases, the biographical information on a person's "contributor" page is provided directly by the person, and the Federalist Society does not edit or otherwise endorse that information. The Federalist Society takes no position on particular legal or public policy issues. All expressions of opinion by a contributor are those of the contributor.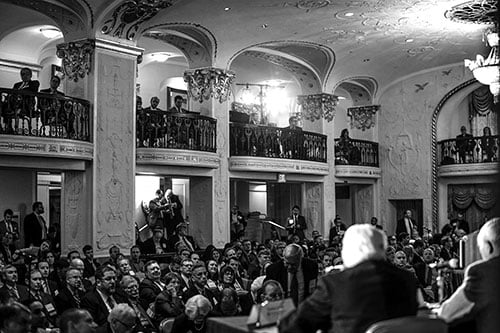 Second Annual Florida Young Lawyers Summit
University Club of Tampa
201 N Franklin St #3800
Tampa, FL 33602
Union League Club
65 W Jackson Blvd
Chicago, IL 60604
During the last weeks of the Trump Administration's Treasury Department, the Financial Crimes Enforcement Network...