University of Virginia School of Law
580 Massie Road
Charlottesville, VA 22903
The University of Virginia School of Law Federalist Society Chapter hosted the 41st annual National Student Symposium on March 4-5, 2022. The theme of the Symposium was The Federalists vs. the Anti-Federalists: Revisiting the Founding Debates.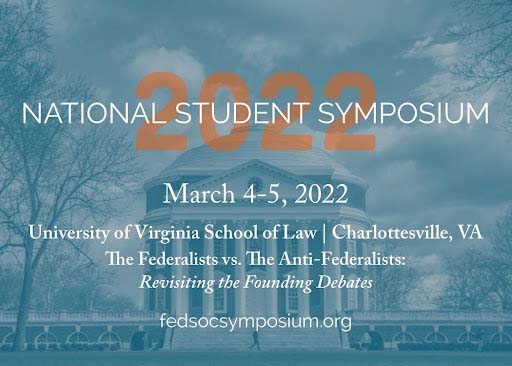 Visit the official Symposium website at
https://www.fedsocsymposium.org/
The Symposium focused on the debates surrounding the ratification of the Constitution to help shed light on the document's original meaning. Many who study the Founding focus only on The Federalist Papers. Of course, the Federalists "won" in that they supported the eventually ratified Constitution. But the Anti-Federalists were the other half of the story. Their concerns framed the debate. And, although they "lost," they are responsible for our Bill of Rights. This symposium provided an opportunity to revisit the founding debates and discuss the arguments for and against our Constitution.
The Symposium hosted six debates/panels on significant constitutional issues that we hope will generate serious discussion among students, scholars, and practitioners:
I: Were the Founders Themselves Originalists? (Panel)
II: The Anti-Federalists: Planting Seeds of American Populism (Panel)
II: 21st Century Federalism: A View from the States (Roundtable)
IV: Resolved: The Federalists Designed a Constitution of Plenary Federal Power (Debate)
V: Modern Debates, Old Insights: The Federalists, Anti-Federalists, and Executive Power (Panel)
VI: Banquet debate: Founders & Foes (An Exchange)
YOUNG LEGAL SCHOLARS PANEL*
*Before the National Student Symposium begins, the Federalist Society's Faculty Division hosted a panel of young legal scholars, presenting prize winning papers with comments from more senior scholars in Brown 102 at the University of Virginia School of Law. For more information, visit https://fedsoc.org/events/2022-young-legal-scholars-panel.
TRAVEL SCHOLARSHIP:
50% TRAVEL SCHOLARSHIP (TRAVEL ONLY—does not include lodging) FOR DUES-PAYING STUDENT MEMBERS.
Click here to JOIN or RENEW your Student Membership ($5)
Back to top